Grammy Polka Party!
Extracts from
The Polka King Rolls Out the Barrel for the 19th Time
Tony Cenicola for The New York Times - February 5, 2006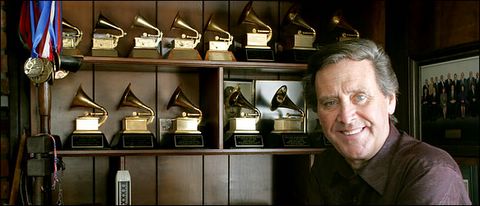 WITH one hand, Jimmy Sturr, the polka king, reached for his pen. With the other, he picked up a glossy promotional flier featuring his brightly smiling head shot and the words "FOURTEEN TIME GRAMMY AWARD WINNER."
[With] dozens of albums with titles like "Polka Fever" and "Super Polka Party," Mr. Sturr, whose frozen wave of light-brown hair and chipper smirk give him a slight resemblance to Regis Philbin, made a quick correction to the text, changing "18 consecutive Grammy nominations" to 19.
Mr. Sturr, who at 64 lives with his parents in the house he grew up in — "the same room," he said pointedly — leaned back at his desk one sunny Saturday afternoon recently, clearly proud of a life's work in polka.
He has won more Grammys than Michael Jackson or Bruce Springsteen, and on Wednesday he will be up for his 15th, which would place him with Yo-Yo Ma and Itzhak Perlman.
A joyfully manic two-beat dance that originated in Bohemia in the 1830's, polka has taken its punches over the years. In the middle of the last century, it made Lawrence Welk a star and Frank Yankovic ("Just Because") a million-selling band leader. But the music has long since been relegated to so-unhip-it's-still-unhip status.
"Polka's taken a bad rap," Mr. Sturr said. "Everybody thinks it's for your grandmother or your grandfather. Everybody thinks of 'Lawrence Welk' — which was a great show, don't get me wrong — but it's not like that. It's very updated. We've Americanized polka a lot."
Dressed in shiny, Vegas-tinted outfits like a polka Elvis and with his 10-piece band playing slick, showbizzy arrangements, Mr. Sturr, who sings and plays clarinet and saxophone, has built a small musical empire. He tours constantly, playing at casinos, state fairs and festivals (including his own Polkapalooza) — more than 150 dates a year, he said.
Churning out albums like sausage links within a few weeks of the Grammy deadline each year, Mr. Sturr is nothing if not efficient. He records his band in New Jersey over a weekend, then adds the vocal stars in Nashville later. Over decades of work his band has perfected a quick-footed and precise style, so confident in its bopping beat and pealing horns that it seems able to absorb any song, be it the Beach Boys' "Fun, Fun, Fun" or "St. Patty's Polka Medley."
He is not without competition. The polka has developed a rich regional variety; besides Mr. Sturr's zippy, big-band Eastern style, major variants include the heavy-on-the-trumpets Chicago school and the Cleveland or Slovenian style, which emphasizes the accordion and the banjo.
"The biggest stigma is the name polka," said Eddie Blazonczyk Jr., 38, a Grammy nominee this year who took over his father's long-running Chicago band in 2001 and outfits it in sharp gangster black-and-white. "Today's polka is definitely alternative dance music, related to zydeco and Cajun and Tex-Mex and conjunto and so many vibrant and exciting kinds of music."
Of the five albums nominated for the Grammy this year, only Mr. Sturr's, "Shake, Rattle and Polka!" is registered with Nielsen SoundScan, which tracks 90 percent of the music purchases in North America. The SoundScan figures for "Shake, Rattle and Polka!" are negligible, with only about 200 sales recorded since it was released in September.
[Article discusses inequities in Grammy awards] There are eight categories for gospel but only one for Mexican music, which accounts for about half of all Latin music sales in the United States. There are no categories at all for Cajun or zydeco. And while a Hawaiian category was added last year, so far there is none for reggaetón, the hybrid of hip-hop and dancehall reggae so popular that it has already spawned a new radio format.
That staying power can sometimes look like stasis. In jazz, for example, Michael Brecker has won nine times (plus two awards in other categories); so has Chick Corea — and he has been nominated 49 times across all categories.
"The Grammys ... They tend to recognize the things that are the most popular, and established, familiar names, over truly good music."
This year only 20 albums were considered by the academy for the polka category, about half as many as it has had in its strongest years. "Interest does seem to be dwindling" in the Grammy, said Carl Finch of Brave Combo, an eclectic polka group from Denton, Tex., that has won the award twice. "It doesn't seem to matter to anybody except us and Jimmy Sturr."
Technorati Tags: Polka, Music, Grammies
Labels: music