Alternative cooking mechanisms
Two good cooking suggestions for people without stoves, from BoingBoing. The first is for people with plentiful disposable income: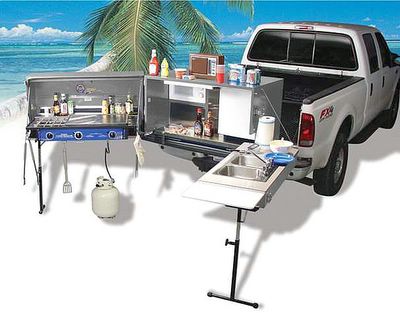 Cook Industries
sells this BBQ Kitchen rig (see above) for trucks. It's priced at $3395. The sales videos are quite a treat. From the product description:
No doubt about it. Cooking in the back yard would be more fun if you could have your whole kitchen out there with you. As a matter of fact, so would camping adventures. That's why many homeowners and campers are choosing the Ultimate BBQ Kitchen from Cook Industries.
Beginners may take up to two minutes to unfold the kitchen, while the more experienced will set it up in under a minute. It's just that easy to have your 90,000 BTU propane stove, grill and griddle, microwave oven, mini-fridge and yes, even the kitchen sink.
The second is perhaps for those of more modest means.
Mobile Cooking
:
Many students, and other young people, have little in the way of cooking skills but can usually get their hands on a couple of mobile phones. So, this week, we show you how to use two mobile phones to cook an egg ... Please note that this will not work with cordless phones.
To do this you will need two mobile phones -they do not have to be on the same network but you will need to know the number of one of them. The only other items you will need are:
An egg cup, (make sure that the egg cup is made of an insulating material such as China, wood or glass - plastic will do. DO NOT use stainless steel or other metal).

A radio, AM or FM - you can also use your hifi.

A table or other flat surface on which to place the phones and egg cup. You can place the radio anywhere in the room but you might as well put it on the table.
How To Do It:
(extracts! - for full instructions see the link)
Switch on phone A and place it on the table such that the antenna (the pokey thing at the top) is about half an inch from the egg. Switch on phone B and ring phone A then place phone B on the table in a similar but complementary position to Phone A.
Answer phone A - Phone A will now be talking to Phone B whilst Phone B will be talking to Phone A.
Cooking time: This very much depends on the power output of your mobile phone. For instance, a pair of mobiles each with 2 Watts of transmitter output will take three minutes to boil a large free range egg. Check your user manual and remember that cooking time will be proportional to the inverse square of the output power for a given distance from egg to phone.
Note: We cooked our egg during the evening using free local calls, if you were to cook an egg for lunch it would cost 3 pounds - not cheap but you do have the convenience.
Technorati Tags: Cooking, Folly