Alborada - telenovela recap
Since this, the first summary, is the one Google picks up, let me assure you they are ONGOING.

If you want to see all the summaries in order, look to the right. See that other column of writing? Now scroll down till you see the picture of Doña Juana and Modesta - it's just ABOVE the picture of the elephant.

Between Doña Juana and the elephant, there is a numerical list (ONE TWO THREE FOUR etc.) and if you click on the numbers in order, you'll get all my recaps.

I post summaries on Wednesday and Saturday mornings.

Tip: you can bookmark the blog so you can get back here easily!
I've decided to let myself get attached to the telenovela
Alborada
. The costumes are cheesy but the hero, Fernando Colunga, the same one as in
Amor Real
(which I recapped
here
), is very cute.
(Muy guapo.
)
This summary is for people who are trying to watch the novela but are having trouble keeping up with the story. All others, move along to some other post.
OK. Our heroine, Hipolita, is hopelessly tangled in family webs. Her first sin was to be born out of wedlock to a weak and easily cowed mother, Asuncion.
Asuncion had had a brief liaison with a rich man and Hipolita was the outcome.
To spare embarrassment, Asunción was "convinced" to send her illegitimate daughter Hipolita far away, to Santa Rita, Panama, to be raised by grandmother.
I have to stop for a moment here and brag that I know Asunción's dentist! She (the dentist) recently moved here from Mexico City and joined my Triangle Jewish Chorale. Small world.
The grandmother gave Hipolita in marriage to Antonio, who is impotent and, according to the subtitles,
efeminado
. Antonio's mother, knowing Hipolita must bear a son or the family will lose its estate, and knowing that her son is not up to the job, throws a political prisoner into Hipolita's dark bedroom one night and tells him, "make a baby with her or you're going to die."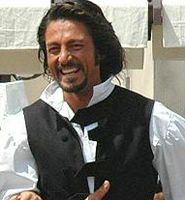 Who is this prisoner? He turns out to be our hero, Don Luis, a rich and handsome Mexican set up for disaster in Panama by his cousin, the slimy Diego.
Don Luis agrees to do it, thinking he will actually just slip out the boudoir window and escape. However, Hipolita wakes up and, thinking Luis is her husband Antonio finally come to her bed, is beautiful and convincing and, oh well, delaying escape a few more minutes won't matter.
It was dark, see? So Hipolita never sees his face or learns his name, but he does tell her of the mother-in-law's plot. So Hipolita's ultra peeved.
Especially when she gets pregnant and the mother-in-law gets nastier and nastier, blaming Hipolita for a second sin - the bearing of an illegitimate son, Rafael! Pretty unfair,
de verdad
? (In public, all claim the boy to be Antonio's.)
So three years later Hipolita and her little boy Rafael escape, along with a maid, and head for Mexico. Hipolita wants to meet her mother and also find her boy's father.
She decides for the sake of safety and propriety to pretend Rafael is her maid's son.
On the ship to Mexico she meets an extremely cute guy, Martin, who is coincidentally the son of Don Luis's servant/friend. Martin offers to help her get to where her mom lives and also kind of falls in love with her.
After a sweet first meeting with her mother, Hipolita is brutally terrorized by her rabid, overbearing stepfather (Francisco), furious to have his wife's bastard daughter show up on the doorstep.
Another person very angry that Hipolita has arrived is Doña Juana, our major villainess. She's not a happy woman, though she lives on the luxurious Guevara estate. What's her problem?
1. Long ago she switched babies with (I think) her brother, the Count of Guevara.
Doña Juana's true son is Diego, whom she dotes on even though he is a womanizing, lying, scheming drunk. He was raised as the son of the Count of Guevara and now is Count himself, which was the plan all along.
See his cheesy suit?
Meanwhile through all these years Doña Juana has had to pretend that our hero Don Luis is her son - she never liked him and now she's trying to help Diego kill him. She's afraid her secret is coming unraveled.
2. Doña Juana knows Hipolita's father was Agustín, a nobleman who is (coincidentally) also the father of Esperanza, Don Luis's religious and frigid wife. Yes, sadly, our hero is already married.
His wife Esperanza has had four miscarriages and has been told by the doctor that another pregnancy will kill her, so Don Luis avoids her completely. She, however, insists on telling everybody that the Virgin Mary came to her in a dream and told her she would have a son. Luis thinks his wife is an irritating ditz and is trying to get their marriage annulled.
(It seems there were two legitimate reasons for annullment: either the partner doesn't have sex with you or the partner can't give you children. So our hero and heroine, Don Luis and Hipolita, each fulfill one of these conditions.)
Esperanza is desperate for a kid though she hates sex. She keeps trying to get Doña Juana (who seems to run the whole show) and her own father Agustín to force Luis to come to bed.
Anyway - Doña Juana insists that the inconvenient Hipolita must go directly back to Panama, to the arms of her evil mother-in-law and also probably to jail - or perhaps the ship will tragically spring a leak
en route
...
Hipolita goes back to her mother's home and is locked up by her brutal stepfather, pending her departure on the next boat to Panama.
However, both Don Luis and the drunken Count Diego have fallen for her and these powerful men are filibustering the removal to Panama.
So Hipolita cools her heels - with maid and baby Rafael - in a locked bedroom.
Count Diego comes to the stepfather and makes a secret offer: he, Diego, will take the inconvenient stepdaughter off his hands! Diego proposes to install Hipolita in the home of a "nice widow" and come screw her from time to time.
The dad says ok and Hipolita, who is told of the offer in a different way, agrees to go.
The maid is opposed, but Hipolita says "it's the only offer I've gotten - somebody has to help me." She thinks once she's out of the locked bedroom she'll be able to send for Martin to help her - she's kind of sweet on him, as he is on her.
The little family of three is installed in the house. They instantly realize the "nice widow" is actually a prostitute and that they have traded one incarceration for another. Diego shows up and starts stroking Hipolita's hand suggestively.
Any questions?
You can find ALL my Alborada recaps listed in the sidebar on the right - just above the elephant!!
Stay tuned...
I also recapped
Entre el Amor y el Odio
here
And I recapped
Amor Real
here
.
Technorati Tags: Telenovela, Alborada, Novela, Summary, Plot