Last week of "Amor Real"
I'm hooked on Univision's
Amor Real
(Real Love). The last four episodes of this grandiose telenovela are airing tomorrow through Thursday. A bunch of people told me they'd like to watch, but they need a scorecard, so in preparation for catching the grand finale, here is a quick recap of the last 100 or so episodes!
We're in the made-up town of Ciudad de Trinidad and environs. The website says it's the 1860s, during the War of Secession; however, if in fact Juan Alvarez is president in hiding, it should actually be the 1850s. If anybody can clarify this for me, please do. At any rate, no miniskirts; in fact, one hoopskirted dress from this show would provide cloth enough to sew every dress seen in a regular telenovela for a week or two. The costumes are great!
The conservatives are in power under their President, Santa Anna (left), but liberal exiles led by Juan Alvarez are heading an ever-stronger resistance.
As I wrote in a
previous post
, Juan Alvarez (right), who the rebels are claiming to be rightfully elected President, was son of a Spanish father and an Afro-Indian mother. He was a great writer and eloquently championed the causes of the darker-skinned Mexicans against the creoles (white Mexicans). He spent his entire career on horseback because he was a paraplegic.
Anyway, as the story unfolds the liberals (rebels as those in power call them) under Amadeo Corona (left) and the far-off Alvarez have been conducting sporadic guerrilla warfare from camps in the outback. They are gradually working their way toward the capital; the conservative army is feeling the heat.
Historically this Juan Alvarez led an armed rebellion in 1854, "the Revolution of Ayutla," during which Santa Anna fled into exile, the conservatives were chased out of government, and the liberals occupied Mexico City. Is that a spoiler? Alvarez was briefly president with Benito Juárez as minister of justice. Juárez, a Zapotec, in his time was the first Indian president of Mexico and was often described as the Abraham Lincoln.
Dr. Manuel Fuentes Guerra, our hero, is the bastard son of a hacienda owner and an Indian farmworker. As the story opens the rich guy dies and Manuel, his only child, inherits everything. Manuel is a proud and stoic man who never knew his father or mother. The mother had disappeared into prostitution after he was born. The father never acknowledged him until the deathbed will-signing.
As a mestizo, Manuel is well aware of the prejudice against him in society, and is bitterly amused that his new wealth trumps his Indian blood and illegitimate birth.
Manuel seeks a wife appropriate for his new status as millionaire. Matilde Peñalver y Beristain, daughter of impoverished aristocrats, is thrown his way by her conniving mother who expects the marriage will end her family's financial woes, daily increased by the gambling debts of the boozing ne'er-do-well son Humberto who has a top hat and what is described as a "Dracula" beard. Mother and son, left.
By the way, Humberto has since been rehabilitated - he got married, overcame his dreadful impotence and allergy to work, and is now a member of the good-guys team.
Matilde was innocently in love with a poor soldier, Adolfo Solis. The conniving mother had to get him out of the way so she had him thrown in jail (this is done frequently in Amor Real, the penal system is lax). The conniving mother then lied to Matilde enough to make her reluctantly willing to marry Manuel.
Usual problems ensue but she eventually fell in love with her rich husband Manuel and had a son (Manuelito) by him, and then there were more misunderstandings, jealous rages, tearful reconciliations, etc. for a few months worth of episodes.
Oh, before I forget, Manuel's long-rehabilitated mother proves to have been on the premises all the while, as a servant. Matilde figures this out and now the mother, discovered, is promoted to proper status and gets to wear crinolines and corsets (left) and gets to call out "hijo, hijo," as all mothers like to.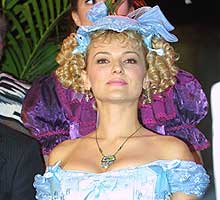 The worm in the apple is a young Frenchwoman, "Marie," who looks very fetching in her new-fangled corsets and excellent dresses. The hair, not so good.
In league with Yves, a boozing ne'er-do-well, she shows up claiming to be Marie de la Roquette, niece of the dead rich guy. Yves knows this to be a fraud but throws his lot in with her. They commission a fake will and screw Manuel out of his inheritance, making Manuel's marriage to Matilde null and their son a bastard.
"Marie" takes a lover, a fat old married bureaucrat, who gets into the act and almost succeeds in having Manuel and his mother killed. Instead, they hide out with the rebels for three years.
Matilde during these long years is told by her conniving mother this big fat lie: that Manuel is dead and that Matilda should marry (ah, irony) the very same Adolfo Solis -- now a colonel in the army and no longer poor -- from whose arms she was torn before her marriage to the then-rich now-penniless and supposedly dead Manuel. (Adolfo was married to a saintly woman for a while but she's died of TB and he's single again.)
Matilde sadly agrees, for the sake of her son's having an "appellido" (last name), but at the last minute is kidnapped from her engagement party by Manuel -- who is not dead -- and is taken back like a sack of potatoes on a horse to the rebel camp where she learns to wash clothes and make tortillas.
Adolfo, having had his bride-to-be snatched from his arms, seethes and wants to kill Manuel, the feeling is mutual.
So at this point, on the plus side:
The REAL Marie de la Roquette, a nun, has appeared. The false will has been revealed to be false. All the riches have reverted to Manuel, were he only able to claim them. The fake "Marie" has one week to vacate the mansion.


The rebels are getting ready to take Ciudad de Trinidad back from the conservatives' army. This would mean Manuel, a victor rather than a "traitor," would get his stuff back instead of going to jail.

On the minus side:
Manuel's mother died taking a bullet for him (right). The fat bureaucrat is to blame. Everybody is sad, even Adolfo.


Adolfo, an innately noble man for whom things have not gone well, realizes he is on the wrong side.

He is also overwhelmed with guilt about nearly raping Mathilde in a barn so he drinks a lot. I think he wants to die in battle, soon.


Manuelito has been kidnapped and the fat bureaucrat has delivered a dangerous ultimatum about his disappearance to Manuel.

If you have any questions, I will answer them! I recommend you watch the show with the Spanish subtitles turned on because they talk kind of fast! Let me know if you give it a try!
I did a brief recap of
Entre el Amor y el Odio
here
.
I am recapping
Alborada
starting
here
.
Technorati Tags: Telenovela, Mexico, History, Amor Real