A few highlights of my 2006
Though I blogged less this year than in 2005, my daughter Melina picked up some of the slack, and between us we cranked out quite a few posts.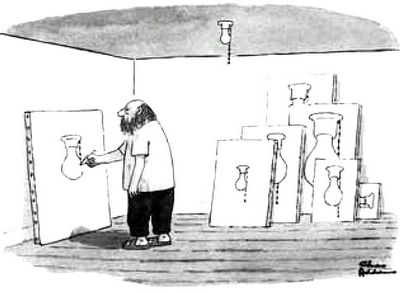 Last year I was truly afraid of spending months in my room like this guy, so I made a resolution to get out more.
Happily, I finally snapped out of the exhausted stupor that followed Zed's departure for college and, as resolved, spent more time with other people, DOING stuff. Result: less blogging, more living.
My recapping of the telenovela
Alborada
(see right sidebar for the whole list of posts), which started in late 2005 and lasted till April 2006, swamped Pratie Place for months. The response spoiled me - it drew thousands upon thousands of hits and scores of comments. It was exhausting to watch the show and write it up every night - but my new friends (enthusiastic non-Spanish-speaking lovers of telenovelas) didn't want me to quit. When
Alborada
ended I took the novela project to a new blog,
Caray! Caray!
, where there are now a dozen recappers writing up three telenovelas, five days a week!
I started painting and dabbled in
Illustration Friday
. I eventually got discouraged by how bad my paintings were, but I resolve to try again.
I studied Yiddish with Sheva Zucker. I started in January and a few short months later I was able to translate an entire Yiddish story, "If I Were Rothschild/When I'm Rothschild," for my friend Scott. What an achievement! He reworked it and included it in his book
Souls Are Flying! Jewish Short Stories by Sholem Aleichem, I.L. Peretz and Jacob Dineson
.
I started playing Pratie Heads music with Bob again and we have rehearsed and performed enthusiastically all year (and put out
three cds
).
Terry Teachout
came to visit
in March - we went to the ballet, ate barbeque, painted, and made music together. I'm hoping to see him again next week!
I drove up to Connecticut, visited Melina, performed a
Ben Franklin
concert in Greenwich (including
two
songs
I wrote for the occasion), brought Zed home for spring break.
Also in March, I visited a fellow blogger in
Seattle
and played for her
English Country Dance weekend
. What a great time that was! I learned you can't go hiking in the Cascades then, because they are
buried under six feet of snow
.
In July I packed up and
went to Paris
; I stayed in a lovely flat and studied Yiddish for three weeks at the Medem Library. After hours, I saw the
final laps of the Tour de France
, watched Parisians deal with their soccer loss in the World Cup, went to the racetrack,
rode the ferris wheel
, goggled at the Eiffel Tower lit up like crazy for Bastille Day... Visited the lovely Monet museum, reluctantly (because I like lines and right angles, windows and corners and doors and archways, and Monet did not paint corners) ...
I came home and immediately drove up to northern Massachusetts to teach Adult Summer Singing Camp at the
Round House
for Village Harmony. A great group of people, wonderful singing, I got so much encouragement I felt inspired to write two songs when I got home. I wonder if I could write songs even without anybody telling me I'm wonderful? Time to try.
Last winter and spring I read with Latino kids in schools. I loved the work and was really good at it. I translated a bunch of books myself, bought a lot of books since the collection at the school was so skimpy, Menticia and I translated and illustrated a few ourselves. But in the fall, I was fired. How humiliating to be fired from a volunteer job! The reason: I had asked, several times, firmly, that somebody call me when the kids would be unavailable! Since once or twice every month I'd show up at my scheduled time to find they were getting tested, or were having a special event, and I'd just have to turn around and leave. "We need volunteers who are more flexible" was the explanation. My thought: help they get for free is worth nothing to them. It still makes me sad.
The bats came back to my attic for a second summer, but left unexpectedly early.
I spent a lot of time with Menticia and adored every minute.
I put up an
excellent sukkah
, for the first time in years, and spent loads of time in it.
It was fun (though expensive) to stand in line at
traffic court
and listened to my fellow citizens concoct ludicrous and unbelievable explanations of why it was unjust that they had been accused of speeding.
I met Melina's Urban Caballero (who has turned out to have more sticking power than the other fellows she auditioned this year) and enjoyed him quite a bit.
Last year, I complained that New Year's Eve is not a good celebration for a teetotaller. I believe I went to bed early and pulled the covers over my head. This year, I'll be celebrating with a friend. Hope you will, too! Happy New Year!
Technorati Tags: diary