The Pratie Heads at the Celtic Café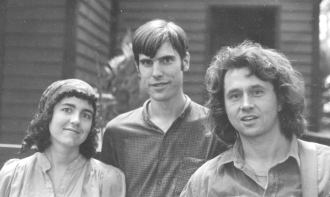 I named this blog after my long-ago "more-or-less traditional music of the British Isles" band, the Pratie Heads. (This is a long-ago picture.)
It was in the Pratie Heads that I first played Irish music, that I first encountered the joy of singing and fiddling for drunken revelers on St. Patrick's Day, that I first learned how to draft interesting chord charts - as a fiddler I'd never worried my little head about that, but figuring out cool harmonic structures for tunes and songs became one of our favorite games.
(Just a couple years ago, I did a gig with another local musician and I handed him a chord chart and when we played it he said: "Them's Pratie Head chords!")
The story of a band is endless, like family. Bob and I played together with great pleasure for eight years, but since then have gone through difficult cycles. (About the third person in the picture above I'll probably never write.)
Remembering that a blog is public, I'm struggling to find a way to share with you the combination of emotions that bubble up around a musical partnership of (on and off, quite often off!) twenty-four years. The hard things made us give up. The beautiful music made us want to try again. Through the off years I missed playing and singing with him. There's nobody I'd rather play tunes with in the entire world. As musicians, we grew up together.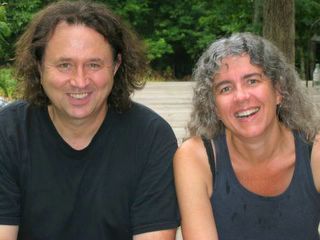 So these days, after much musing, I'm working on not taking our incompatibilities personally. I intend to frame any possible recurrence as an
El Niño
of some kind. Hang out at the beach, enjoy the sand and surf, but be ready to get drenched.
Live music is precious. Enjoy it when you can - you never know which will be the last time... If you're in the Winston-Salem area tomorrow, by any chance, you can hear us play from 6:30-9:30 at the
Celtic Café
...
Technorati Tags: Music, British Isles, Scottish, Irish, Celtic Café
Labels: music