Trip to Seattle: The Seattle Center is a ripoff
This view, taken from Kerry Park (where, Kimberly and Paul informed me, all the picture postcards are snapped) had me curious about the
Space Needle
.
It's Seattle's most famous landmark, a Jetsons-looking thing built for the 1962 World's Fair.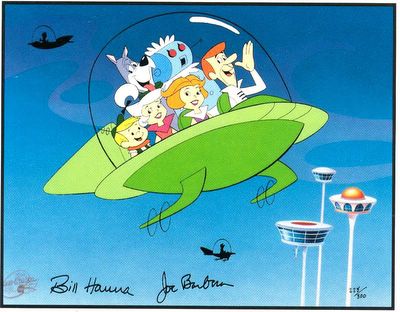 Oh, wait, I forgot, some of you don't know the Jetsons. Here they are. Observe the lower right corner of the picture...
So when my hike in the Cascades
didn't pan out
, I came back to town and visited the Seattle Center. I parked near my hostesses' current site (she's an architect) and walked over to this tourist hub.
How much do you think it costs to go up in the Space Needle? $5, $7? No, try FOURTEEN DOLLARS. So I didn't go up. Why spend $14, when I can look down on the Space Needle from above for FREE?

While I was there, I saw a lot of tourists go up to the window, stare in astonishment at the price, and walk away. Seattle, you are shaking us plebes down mercilessly. Shame on you.
The Science Fiction Museum on the grounds was, obviously, designed by Frank Gehry. I can't report on what's inside - probably Yoda, etc. - because it cost $13 and again, shake-down.
So I circled around it from the outside.
OK, friends: This is the only free entertainment at the Seattle Center. This guy has some marionettes and a boombox. He slowly raises and lowers all the marionettes at the same time over and over while a very distorted recording of Stephen Stills plays loudly on the boombox. Well, you get what you pay for.
This picture sums up my experience at the Seattle Center. My advice: skip it.
Technorati Tags: Seattle+Center