Sighing from afar...
A favorite blogger of mine, Mirty, listed her
celebrity crushes
and it seemed like it would be fun. (It was.)
When I looked online for pictures of these guys, I was so dissatisfied. What made me crush on them: their walking, loafing, talking, goofing, sneering, cracking jokes, getting ruffled. Most of the promo pictures are so slick and lifeless. These are the best I could come up with...
Jake Weber has a gorgeous voice, and he is very patient with his whacky wife who
hears and sees the dead
. He must be brilliant, he dashes off incomprehensible mathematical formulas on whiteboards.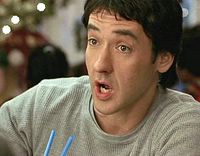 John Cusack - had his perfect moments in
Say Anything
and
High Fidelity
. But did not strike me as a good candidate for successful self-enlightenment.
Adrien Brody - so adorable and helpless in
Dummy
, a much under-rated movie. Then he was, ahh, so noble and artistic in that perfect dark narrative,
The Pianist
. And so, so beautiful...
Jean Reno - he's usually a little bit (or a lot) scary, but was perfectly fetching and adorable as a medieval lord transported to our world in
Just Visiting
. That movie got rotten reviews but it made us laugh again and again. Reno has an incredibly sexy voice.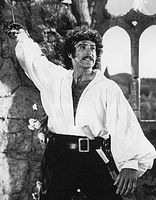 Kevin Kline - if he'd never done anything but
Pirates of Penzance
I would still love him forever. He sings! Dances! Swashbuckles! Wiggles the preposterous moustache! Raises an eyebrow!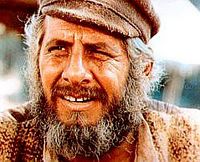 Topol - I've never seen him in anything again since
Fiddler on the Roof
, but nothing more is necessary. An immortal performance and a permanent place in my heart. When such a man talks to God, how could God not listen? I loved the scene where he asks Golde for the first time, after so many years of marriage, "but do you LOVE me?" What a concept.
Joe Morton - after he was so heart-stoppingly perfect in
Brother from Another Planet
(here's my
review
), I never saw him again. I miss him. Come back, Joe. Or else beam me up. I can do all the talking for the two of us.
Judd Hirsch - even when I was a kid I though he had a cool voice. He was such a nice patsy in
Taxi
and he got cuter and cuter.
Albert Finney - my first movie crush in
Tom Jones
, a perfect, beautiful, winsome delight. He has continued being wonderful to this very day. He is still sexy, even as potbellied and frowsy as he has become.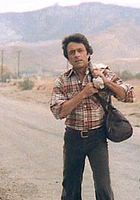 Bill Bixby - I fell in love with him when he played
The Incredible Hulk
(here's
my review
). So sad, such a beautiful voice. When he tried to crack a joke, though, it was painful.
I enjoyed doing this meme, Mirty. It cheered up a lonely evening.
Technorati Tags: crushes, movies