Another concert at Memorial Hall
I was lucky enough to be invited to a second concert at Memorial Hall last night (I also reviewed the first:
Ian Bostridge and Julius Drake
).
The concert opened, as the other had, with a way-long monologue by the man who manages Memorial Hall and/or its concert series. As a performer I get annoyed, waiting in the wings, when these guys go on and on - it's just as bad when I'm in the audience. He certainly enjoyed his time in the spotlight; he preened and tried to be winsome but came across merely as a bureaucrat who wouldn't get off stage.
The first set was by
Tift Merritt
and her band (warning: her website has a very annoying splash screen which will make you queasy if you're inclined that way). It started with a shock! While acknowledging the applause of her home-town audience - she used to be a student at UNC-Chapel Hill - she walked right off the front of the stage and fell into the orchestra pit. We all gasped, but she hauled herself right back out, struck a pose, and then got right down to boogying. That was classy.
Tift and her band are a little exhausting to watch on a stage like Memorial Hall's, because they have scaled their onstage activities for a stadium audience: she shimmies at 10 on the Richter scale, swinging those hips (good Latin movement, I must say) constantly, striking attitudes with her guitar again and again; she and the other guy who occasionally played tambourine acted as though it were a solo instrument, flailing it about in all directions and waving it wildly up in the air so those of us in the seats 1,000 miles away could still see them - except that we were right there. This reminded me of Marshall McLuhan's point that exaggerated projection, such as is needed on the theater stage, is out of place on television (a more intimate medium); similarly, Tift's high energy flailing was excessive for the dark, elegant hall and its quiet, attentive audience. And while I'm on Marshall McLuhan this also came to mind:
To the mind of the modern girl, legs, like busts, are power points, which she has been taught to tailor, but as parts of the success kit rather than erotically or sensuously. She swings her legs from the hip . . . she knows that a "long-legged girl can go places." As such, her legs are not intimately associated with her taste or with her unique self but are merely display objects like the grille on a car. They are date-bated power levers for the management of the male audience.
Tift had two geeky guitarists. One sang nicely, behaved himself, and looked like he belonged in the computer lab. The other, super skinny and with hair like a black poodle, struck ridiculous poses and stalked the stage peering in corners; maybe he'd lost his capo and was wondering if he could find it before the next song.
After a while this all seemed pretty fake. Tift sang loud, loud, loud most of the time, and with three guitars all competing for that same mid-range territory, the sound was masky and bland. But what mostly rolled off her was the smell of ambition. She's at that shark stage - trying to make it big and doing whatever she thinks will get her there.
"Did you know the old Tift?" somebody asked at intermission. "She was doing a country western thing then, with a big ol' hat and boots."
Tift first came to my attention in a 2003 article in the Independent Weekly called
Why can't you hear Tift Merritt on the radio?
:
"I'm a very lucky woman," she says. "I'm doing what I love and I'm very happy doing it. But honestly, if radio would play me, I would be doing a lot better."

As she said in testimony at the Federal Communications Commission hearing held in March at Duke Law School, "I was making inroads on the national country scene; one might venture to think that my hometown station would be supportive, if not ecstatic to play my record."
Whining for attention is rarely successful. Her music is ok. But I wish she would just relax and focus on what's inside her, rather than what is calculated to shoot her to stardom.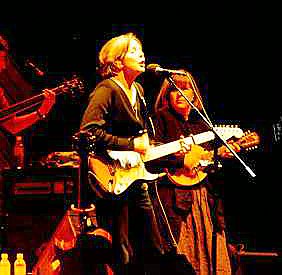 Nanci Griffith
, who took the rest of the show, seemed more relaxed and less worried about proving something to us, though I think years of having been a very respected "folkabilly" (her word) songwriter whose songs were made hits by other artists - being "always the bridesmaid and never the bride" - may have led to some jokingly resentful stories she told. Her voice is low, with a sharper edge than most low voices have; the sound reinforcement didn't cope with it well and it came across, like Tift's, as harsh and difficult to understand.
Her "Blue Moon Orchestra," which has been together in more or less this same configuration for almost two decades, is splendid. Without posturing, they deliver whatever is required, from atmospheric waftings to a great country groove. I felt a bedrock of mutual respect and pleasure among them, fine musicians all, and Nanci must treat them well or they would not have stuck together all these years. One doesn't need to waggle to blow an audience away.
Evidently Nanci once said she began writing her own songs because she found it easier than learning how to play other people's songs correctly. Similarly, wryly commenting last night on having reached her "nifty fifties," she said "it's easier to write new stuff than to remember the old stuff." Which reminded me of the old saw about Rossini: that he composed in bed and if one of his arias fell off onto the floor, he'd write another one rather than go to the trouble of fishing the first one out from under the furniture.
Nanci's own music is beautiful but so steeped in nostalgia that it made me want to cry, again and again. Here's an example:
Late Night Grande Hotel
© 1991 Ponder Heart Music/Irving Music Inc. (BMI)


I'm working on a morning flight to anywhere but here
I'm watching this evening fire burn away my tears
All my life I've left my troubles by the door
Leavin' is all I've ever known before

Chorus:
It's not the way you hold me
when the sun goes down
It's not the way you call my name that left me
stranded on the ground
It's not the way you say you hear my heart
when the music ends
I am just learning how to fly away again
It's not the way you say you hear my heart
when the music ends
I am just learning how to fly away again

And maybe you were thinkin'
that you thought you knew me well
But, no one ever knows the heart of anyone else
I feel like Garbo in this late night grande hotel
Cause living alone is all I've ever done well
Luckily, she leavened the mix with more cheerful songs by, for instance, three of her band members. She also promoted her initiatives for the restoration of the I-90 Gulf Coast highway and a
Landmine-free World
.
She graciously invited Tift out to join her on the finale, and my last catty observation of the evening was of Tift's attempts during this encore to steal a little more attention by shimmying and tossing her blond locks to and fro incessantly. She frankly couldn't compete with the all-for-one one-for-all power of Blue Moon - the song remained a solid group effort, with everybody taking a verse of the cutist, rockingist version of "If I Had a Hammer" these jaded ears have ever heard, driven by Nanci's grizzled drummer in the back there shaking it up with Tift's lank-haired blond boyfriend Zeke on the tambourine.
Technorati Tags: Review, Music
Labels: music