Illustration Friday - "Spotted"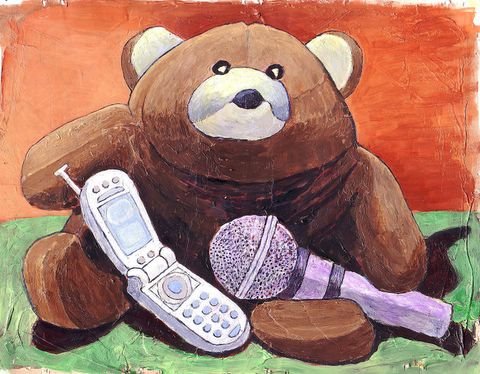 At first I thought I would try to paint this, my first still life, in pointillist fashion (spotted, get it?) but it didn't turn out that way. The microphone is spotted, though.
The original still life was composed by
Gene Medler
at Saturday's rehearsal for the North Carolina Youth Tap Ensemble. Gene's favorite pianist has married and moved to California, and though the pianist plans to fly back for the shows, he couldn't be at our first run-through this weekend.
So Gene hatched this high-tech plot: Scott, the pianist, would put his cellphone on his piano in California, on speaker phone, and at our rehearsal studio here in Chapel Hill, Gene would put his wireless mic next to the cell phone and feed it through a speaker so 30 young tap-dancers could hear the pianist in California.
The mic kept rolling off the box and so Gene took somebody's teddy bear (there are some mighty little tappers in the show) and propped the mic and the cellphone in the teddy bear's lap. Just like this.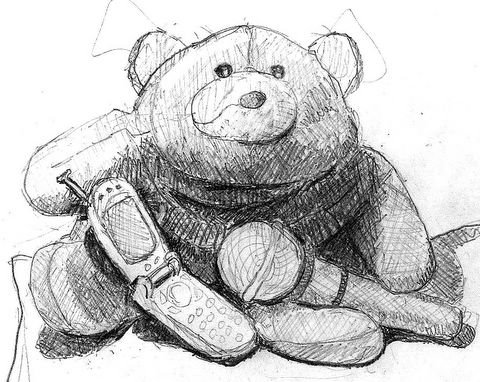 I didn't have my camera with me, but when I got home I realized I could get my hands on a teddy bear, a cellphone, and a microphone.
So I set up the still life at home and sketched it.
Then I painted it for your amusement.
Technorati Tags: Illustration+Friday