My New Year's resolution
In early November a friend was reading
The Artist's Way
. He's an extremely successful academic, but he really wants - something more. He's edging his way into music.
Since he was raving about this book, I got it from the library. At first, I thought it wasn't for me.
It seemed to be aimed towards people who had always
wanted
to be creative, but had felt blocked for various reasons. People who, for instance, secretly want to be writers, but haven't admitted it to themselves, or are afraid to try - so they hang around with writers instead.
My problem was different: I felt my creativity would always be available to me, if the occasion arose, but the occasion was no longer arising.
In other words, I think if there were a purpose for my creativity, it would be there. When I need a tune, I can compose it; when I need a lyric, I can write it; if I need an album cover, I can paint it.
That's the problem with being an artist but also a deeply pragmatic person. Since I felt nobody needed or wanted what I could do any more, I stopped. My life has become silent.
Well, the first, non-negotiable requirement laid down by
The Artist's Way
was that one sit down every morning and write, longhand, three pages. About whatever, not for publication, not even for divining purpose. Cameron says, if you can't think of anything to write, write "I can't think of anything to write" until you've covered three pages.
This morning writing (I do it after I blog) proves to be very easy and pleasant, it gives me a happy reason to go downstairs in the morning. It keeps me company as the sun rises. I haven't yet run out of ruminations!
It's already led to some changes in my life. Here are a few:
I signed up for a class with Jane Filer and bought one of her paintings;

I investigated beginning a Yiddish class with Sheva Zucker in January;

I started memorizing fiddle tunes after dinner.
I find my fear of solitude - following my son's departure for college - is completely gone and I enjoy my time alone tremendously.
Well, I read a little farther along in the book and found myself: the artist who's been damaged and discouraged.
That's the problem with being in love with things unloved by the world in general. My ex-husband, exasperated in the car about fifteen years ago, snapped on the radio and turned it to a country-western station: "if you'd wanted people to appreciate your music,
this
is what you should have been singing."
Instead of Serbian
a cappella
? Instead of Bosnian love songs? Instead of Yiddish, Siberian, Breton, Sephardic, ancient English songs?
I knew he was right and eventually ratcheted down my hopes to nothing - but with that, I also ratcheted down my belief in what I was doing. Until I practically stopped doing it.
Yes, my life has become rather silent.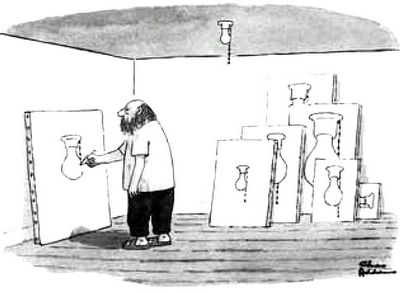 In the last week, thinking yet again about this picture, I realized my biggest challenge this year (here comes the New Year's resolution) is to "get out more." To spend more time with other people and do more things I don't usually do. An
introvert like me
is so tempted to "do without." I know perfectly well I can do without! But now it's time to reach for more. And that's my one and only resolution.
I'm looking forward to visiting around the blogosphere to see what other people are resolving.
Happy New Year!
Technorati Tags: New Year's Resolutions, Creativity, Artist's Way, Art