Life without Mozart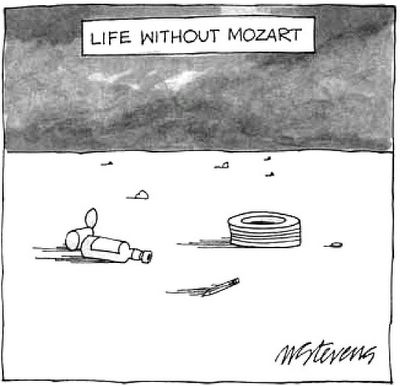 Was anybody else blown away by that story on NPR yesterday about Lorenzo Da Ponte, the man who wrote libretti for Mozart?
While Mozart and da Ponte collaborated on only three operas ... these three operas are considered by everybody to be among the greatest ever written. ... Le Nozze di Figaro (1786); Don Giovanni (1787); and Così fan tutte (1790). Note how much faster this pair worked than Strauss and von Hofmannsthal: three operas in four years compared to six in 24. (Just by way of comparison, Gilbert and Sullivan wrote 14 operas in 25 years.) More.
The thing is, though, that Mozart died the following year, in 1791, at the age of 35. So instead of having another few decades in which to write sublime operas with his friend Mozart, Da Ponte went bankrupt and emigrated to America where he opened a grocery store, first in the Bowery and then in Elizabethville, PA. The store failed and in 1807 he returned to New York, where he died in 1838 at the age of 89. He was buried in an unmarked grave - like Mozart, who also died penniless.
Technorati Tags: Fate, Music, Da Ponte, Mozart
Labels: music