"see a secret, share a secret"
I look at the site
Post Secret
fairly frequently. This is what's on top today: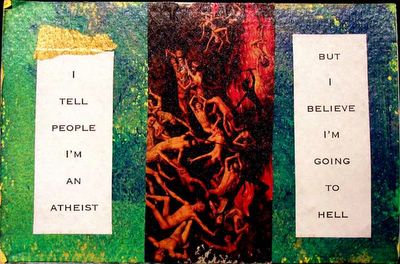 Frank is always open to new submissions. He says:
Mail Your Secrets Today

You are invited to anonymously contribute your secrets to the PostSecret project. Each secret can be a regret, hope, belief, experience, fear, betrayal, desire, feeling, confession, or childhood humiliation. Reveal anything - as long as it is true and you have never shared it with anyone before.

Steps:
Create your own 4-inch by 6-inch postcard.
Tell your secret anonymously.
Stamp and mail the postcard.

Tips:
Be brief – the fewer words used the better.
Be legible – use big, clear and bold lettering.
Be creative – let the postcard be your canvas.

Go to his site for the address and to see scads more of these. Know your fellow humans better.
Technorati Tags: Secrets, Art