Git While the Gittin's Good

In this picture you can barely see the roof of my aunt's house, just shy of the Hatteras lighthouse, tucked in next to the Coast Guard treatment field (she called it "The Gardens of Versailles" when wastewater came regally squirting up out of the PVC pipes).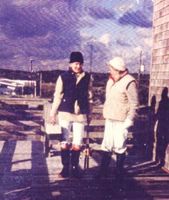 She built this house, next to the lighthouse and across the street from the Coast Guard, despite my loud complaint that the Outer Banks are rapidly rolling back toward the mainland. "I have two dunes, and this house will outlast me," she said calmly, and she was right; a smoker, she died of lung cancer in 1999 with one of her dunes still mostly intact.
I was interested to see this
article
by Jerry Allegood in this morning's Raleigh News & Observer:
Coast Guard to leave Buxton
Erosion speeds up station's relocation
BUXTON -- As the National Park Service beat a multimillion-dollar retreat from an eroding Outer Banks beach in the 1990s, the Coast Guard was spending millions to stay there.

Now the Coast Guard is bailing out.

Winter storms washed away 12-foot protective dunes at a small Coast Guard station at Buxton, flooding houses and shutting a waste treatment plant.

The threatening ocean has speeded plans to relocate Buxton personnel as part of a Coast Guard restructuring, although a date has not been set.

Some say the 23 housing units, built in the mid-1990s for $8.3 million, were doomed from the start.

"Everyone was really surprised when they built that facility there," said Jan DeBlieu, a spokeswoman for the N.C. Coastal Federation. "It just didn't make any sense."

The beach just north of the Cape Hatteras Lighthouse has long been vulnerable to storms and waves rolling in off the Atlantic. Within the past several months, erosion has wiped out a 12-foot dune and brought the surf line within 150 feet of Coast Guard property. Housing units are located farther from the property's edge, several hundred feet from the shoreline.

During a nor'easter last week, ocean overwash raced over the flattened beach and pooled around the housing and office area.

DeBlieu said it was odd that the Coast Guard built in an erosion-prone area, even as the National Park Service was making plans to move the Cape Hatteras Lighthouse away from the eroding beach. The Park Service spent $9.8 million to move the lighthouse 2,900 feet to the southwest, a feat completed in 1999.

... DeBlieu, Cape Hatteras coastkeeper for the coastal federation, said people should accept that erosion will occur on the barrier islands. She said the Coast Guard housing could follow the example of the lighthouse.

"It's a nice new complex," she said. "Maybe they should take them up and move them."
See
part two
and
part three
of this series.
Technorati Tags: Environment, Erosion, North Carolina, Buxton, Lighthouse