Failed suicide in Mebane blows up somebody else's home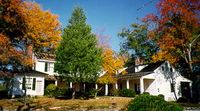 The Inn at Bingham School in Mebane, listed on the National Register of Historic Places, was destroyed in November 2004 when a guest disconnected the propane gas line to his room's fireplace in order to asphyxiate himself. The propane caused an explosion and blew out the south wall of the building, which began as a log cabin in 1790 and was enlarged in 1801 and 1835.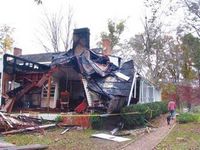 Francois Deprez and his family owned and ran the Inn. The Deprez children, 7 and 10 years old, were asleep in the room adjoining the guest's; a brick chimney between the rooms saved their lives. Evidently 200 years of termite damage caused the explosion to blow the wall outwards rather inwards; an implosion would likely have killed the whole family.
The man who caused the fire suffered minor burns. He can't be charged under arson laws because he did not actually set the fire which destroyed this 200-year-old Inn. The owner hopes to rebuild.
More
.
Technorati Tags: Current Affairs