What tugboats do while we're not watching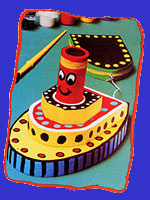 OK, in the dead of night they dug a huge trench in the shallow waters of the Croatan sound using a tugboat's propeller! Doesn't this sound like a
Dortmunder
operation? Here's the
News Release
of October 5, 2004 from the US Attorney's Office, Eastern District of North Carolina:
PROJECT MANAGER PLEADS GUILTY TO ENVIRONMENTAL VIOLATIONS
United States Attorney Frank D. Whitney announced that Michael Eugene Hillyer pled guilty in federal court in Raleigh on Tuesday, October 5, 2004, to a conspiracy to violate the Clean Water Act and the Rivers and Harbors Act of 1899, and a substantive violation of the Rivers and Harbors Act, pursuant to a plea agreement with the U. S. Attorney's Office.
The Indictment, which was returned by a federal grand jury in Wilmington on May 26, 2004, alleged that HILLYER conspired with other individuals to discharge pollutants from a point source into, and to excavate, fill, and alter the course of, the Croatan Sound, a navigable water of the U. S., without a permit having been issued by the U. S. Army Corps of Engineers.
... [He was] Project Manager for Balfour Beatty Construction, Inc., an international construction company hired by the North Carolina Department of Transportation to construct a bridge from Manns Harbor to Manteo, N. C. HILLYER and his co-conspirators sought to avoid the environmental permit requirements in connection with the removal of certain construction equipment. Instead, the conspirators used the propellers of a tug boat to "prop wash" the Croatan Sound bottom. The conspirators also worked at night to avoid detection by inspectors.
As a result of the unauthorized conduct, the conspirators created a trench in Manns Harbor that measured approximately 600 feet in length, 60 feet in width, and 10 feet in depth. It is estimated that the conduct impacted over 8.2 acres of shallow water habitat.
Also see the article by
John Lansford
Technorati Tags: Environment, GreenPower