Belle Gunne, the Black Widow of Indiana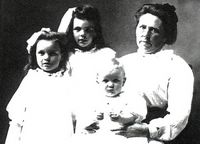 The Summer 1999 issue of
Notable Women Ancestors
told the story of Belle Gunness, known as America's first Black Widow serial killer. Infamous for decades, she had fallen into obscurity until the 2004 movie "Method" in which, I hear, she was played by Elizabeth Hurley.
1858
Brynhild Paulsdatter Storset is born to very poor parents in a Norwegian fishing village.


1881
She moves to Chicago and married Mads Sorenson.
1897
Their 3-month old daughter dies mysteriously; the baby had been insured and a settlement is paid.

Also, Belle and Mads's candy store burns down. Belle blamed the fire on the explosion of a kerosene lamp; even though no such lamp was found in the wreckage, there was a fine insurance settlement.

With the two settlements, they buy a larger home.
1898
Big new house burns down providing a larger insurance settlement. Then son Alex dies. His life was also insured.

The Sorensons begin to take in orphaned children, receiving money for their care. The children tend to disappear or sicken and die.

1900
Mads dies unexpectedly of convulsions on July 30, 1900 - the only day that two life insurance policies on him overlapped. Even though he shows signs of strychnine poisoning, the insurance settlement is paid. Then Belle buys a farm.

1902
Belle marries Peter Gunness, a local Norwegian immigrant farmer. One week after the wedding, Peter's daughter dies when alone in the house with Belle.
1903
Peter dies. According to the widow, he stumbled against the stove, overturned a pot of boiling water on himself and knocked over the meat grinder which hit him between the eyes. An orphan living in the house was overheard telling a friend that Belle had killed Peter with a cleaver. From Prairieghost.com: "The authorities investigated but Belle was so convincing, and so formidable, at the inquest that no charges were ever filed." Also, Belle was pregnant and this influenced the jury. Belle collects the insurance.

Belle begins to advertise in the personals ads in a Norwegian newspaper, seeking a husband who has money or is well insured. She instructs candidates to convert all their possessions into cash and not tell anyone where they are going. One letter ended: "my heart beats in wild rapture for you --- come prepared to stay forever." Strangely, a number of men take her up on it and come to the farm, but they disappear. Several handymen also disappear.

1906
Jennie the orphan grows suspicious after so many men leave suddenly in the middle of the night, not taking their trunks. Belle tells everybody she is sending Jennie to school in California. A "professor and his wife" arrived one night and leave with Jennie, who is never seen alive again.

1908
Belle receives numerous letters from Asle Helgelein enquiring about his vanished brother Andrew (who had withdrawn $2,900 from the bank before leaving Norway in response to her charms). She tries to get Asle to come marry her, but he is not interested.

April 28 the farmhouse burns to the ground. Belle's three children and a headless woman are found charred in the basement. The piano had fallen on them, so it was evident they had been murdered before the fire. The woman's body is full of strychnine.

Asle shows up and starts digging. He finds his brother's body in a sack, limbs, torso, and head cut off. Many butchered bodies are uncovered, including the skeleton of Jennie who supposedly went to California and two other small unidentified children. 14 bodies were pieced together but taking into account the many teeth, bones, limbs, and watches left over, it was estimated that forty corpses were unearthed. There is a detailed account at Bedlam Bound.

The Gunne farm becomes a huge tourist attraction.
Some think Belle's victims numbered as many as 180. It is widely believed that the headless corpse in the basement was not Belle, who weighed 280 pounds in contrast to the corpse's estimated 150. Measurements on file with local dress stores indicated that Belle (who could throw huge trunks around like cereal boxes and had 17" biceps) had bust and waist measurements fully 10" more than the corpse and hips 14" larger.
For more see the
LaPorte County Historical Museum
site.
Backroad Brewery
named one of their beers "Belle Gunne Stout"
Technorati Tags: History