Swan Lake
Yesterday I drove over to Winston-Salem to see the
Carolina Ballet
production of Swan Lake at the Stevens Center with
Terry Teachout
, my indefatigable blog friend who was down from New York for the occasion. We had never met before.
We started with lunch on a patio near the Center, talking about life and watching the audience and musicians gather.
The three on the right here were so late they were a blur as they skittered toward the theater.
Watching them gather made me very nostalgic for my long-ago pit musician days. I still have many black outfits (some got moth-eaten, though, so I had to throw them away).
I hadn't been to a ballet since I was a kid. The ballet I saw then? Why, Swan Lake! Robert Weiss, Carolina Ballet's Artistic Director and CEO, said George Balanchine often joked: "one should call every ballet
Swan Lake
because then people would come."
This is all I remember from the first Swan Lake I saw when I was nine: rows and rows and rows of identical swan girls in very stiff short white tutus.
They reminded me of the Rockettes.
Weiss has shortened the ballet by 45 minutes and cut down on the number of swan girls, in my opinion for the better. He wrote in the program notes:
A traditional Swan Lake requires a company of at least 75 dancers with ... at least 24 swans (32 would be preferable) and ... production costs a minimum of one million dollars. ...

I came upon a children's book ... by the award winning Viennese author and illustrator Lisbeth Zwerger which retold Swan Lake as an intimate fairy tale and I realized a mid-size ballet company with finite resources could have a very different but equally valid Swan Lake of its own.
Here's a picture of Robert and Terry and the lovely
picture book
which inspired the new production.
There is hardly any story to this ballet, and what there is - is kind of stupid. Here is the beginning, as told by Zwerger:
Prologue: The princess and her friends are enjoying a pleasant afternoon when all of a sudden a shadow is cast over the scene from above. The princess and her entourage become frightened and without any further warning, a sorcerer in the guise of an owl swoops down and magically changes them into swans.

Act I: Scene I: Once upon a time, all you needed was the right mix of enough evil and a good spell to transform a person into a tree, a rock, or even an animal. In those days, there lived a prince who thought that life was all about having a good time. ...
At this point I should start telling you about the ballet, but I'm obviously not qualified. Go see it for yourself (see below). The choreography kept unfolding and unfolding and making me smile and smile. The troupe seemed happy and full of life. My eyes were filled to the bursting point. I'd have to see the show many more times before I'd seen everything there was to see.
Another chance to see it: Carolina Ballet will be performing Swan Lake at Memorial Hall in Chapel Hill February 4-5, 2006.
The tableaux were arranged and lit gorgeously. [The lighting designer, Ross Kolman, used to light the "Solstice Extravaganza," a Christmas Revels-type production I put on in the late 80s and early 90s, and he also used to light productions for Gene Medler's
North Carolina Youth Tap Ensemble
, for whom I fiddle every year. One year Ross made me laugh by meticulously writing my name in red electrical tape on the stage where he wanted me to stand...]
Margaret Severin-Hansen, who played the Swan Princess with most beautiful fragile cygnean arms, and Cyrille de la Barre, the wild and evil sorcerer, were spectacular. I couldn't tear my eyes away.
We all jumped happily to our feet for a standing ovation at the end. I will go to another ballet before much time goes by. Here is my plea for you to attend live performances of any kind: often these operations hang by a thread. A few more customers can make a huge difference.
The costumes were sensual and soft and very Russian; the colors reminded me of the
Ivan Bilibin
illustrations I've scanned for you from fairytale books I bought 30 years ago in Russia. It turns out Bilibin also designed sets and you can see some
here
.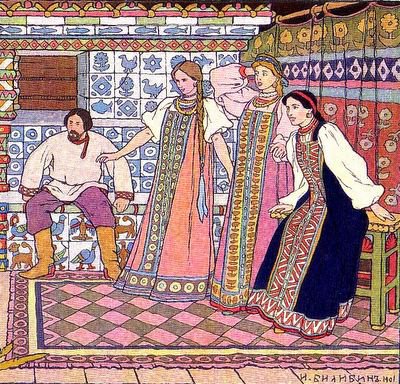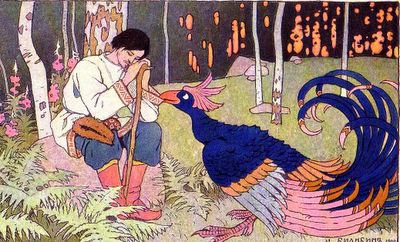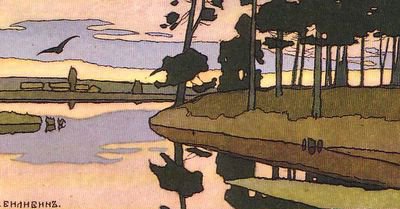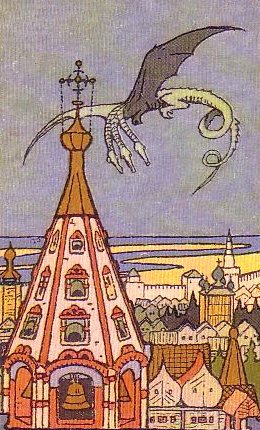 On the way out of the Stevens Center I admired the stairway...
Parenthetically, on the way to the show Terry and I had taken a small detour to visit a couple of popular Winston-Salem tourist locations:
First, for
Michele
, "Envy Shoes."
And this one, "Casket World," is for
Jill Fallon
.
We had a great time.
Technorati Tags: Ballet, Carolina Ballet, Review, North Carolina