Jewish pirates save Louisiana
Jean Lafitte's diary states he was born in Port-Au-Prince, Saint Domingue, in 1782. His mother died the next year, so Jean and his siblings were raised by their grandmother, the Sephardic Jew Zora Nadrimal. She told them of her flight from Spain to France with their mother to escape the Inquisition, which tortured and murdered their grandfather Abhorad. (The brothers later falsely claimed the Bordeaux region of France as their birthplace to snag French privateering credentials.)
The family lived a peaceful life in Santo Domingo until the
Slave Insurrection of 1791
. The Lafitte/Laffite brothers escaped to Martinique where they purchased a Letter of Marque (makes it kosher to seize and loot enemy vessels). Jean married a Danish Jewess, Cristiana Levine, and after four profitable years of privateering the family left for France with everything they owned. On the way their ship was taken by a Spanish Man of War. They were stripped and dumped on a sand cay; days later an American schooner picked them up and took them to New Orleans where Cristiana shortly died of exhaustion and fever.
Meanwhile Jean's brother Pierre, also a privateer, was busted for smuggling. The now indigent brothers briefly worked for
U.S. Customs
and then got back into pirating. Jean bought this blacksmith shop (built 1772) to front his evil businesses. Pierre and Jean were joined by their brothers René/Renato Béluche and Dominique You, former artillery gunner for Napoleon. They built a headquarters in Barataria Bay.
Captured Spanish vessels were maneuvered into the bay and, by 1811, Barataria was a thriving community with 32 armed warships,
more ships than in the entire US navy
. Businessmen from New Orleans arrived at night to buy pirates' loot. The operation was so huge, it affected the economy of the whole Gulf. "New Orleans banking declined and it was apparent that Laffite was monopolizing Louisiana's import trade and the commerce of the entire Mississippi Valley." (
Jews on the Frontier
)
In 1814 Great Britain dispatched an armada and 8,000 men to take Louisiana. Sure of success, they brought along a complete civil governmental staff to rule over the soon-to-be established Crown Colony. The officers offered Lafitte 30,000 pounds sterling and a commission in the British Navy if he would guide their troops through the maze of waterways to New Orleans. Lafitte had traveled the bayous for years and knew them better than anyone; he had even mapped the navigable waterways within 10,000 square miles of delta.
Lafitte pretended to accept the British offer but instead sent word to New Orleans that invasion was imminent. In exchange for a governor's pardon he and his buccaneers would help defend the city.
With more than two thousand men under his command, Lafitte could perhaps have turned back the British himself. But instead of accepting Jean's help, governor Claiborne let a Commodore Patterson attack Barataria. Patterson destroyed the settlement and stole loot worth half a million dollars, claiming it as spoils of war -- though none of it was ever seen by the government. He rounded up and imprisoned all the pirates he could find.
The governor's smugness was brief: reliable sources confirmed that the British were coming; within days their Armada arrived. Andrew Jackson, Commander in Chief of New Orleans, had almost no men or ships and so, amusingly, Claiborne was forced to free the imprisoned pirates (the "Hellish Banditi" as Jackson called them). He needed them desperately.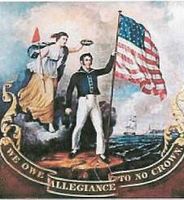 Jean and Pierre guided the American forces through the marshland maze. An assortment of 4,000 Tennesseans, Choctaw tribesmen, free blacks, Creoles and of course pirates defeated the British in the Battle of New Orleans. Although James Madison gave presidential pardons to Jean Laffite and the buccaneers, their loot, surprisingly, was not returned. They were penniless yet again.
Some of the pirates began peaceful lives along the shores of Barataria Bay. The Lafittes, however, went back to piracy. Brother Dominique You was hired to rescue Napoleon from St. Helena and bring him to New Orleans, though Napoleon's death interfered with this plan substantially. Pierre and Jean sailed to Texas and established a colony of privateers off the coast of Galveston. Roger Kamenetz called it a
"utopian pirate's den."
Later, Jean became a
labor leader
in St. Louis. In 1847 he met with Marx and Engels and, admiring their work, opened an escrow account in Paris to help them.
There is evidence that Lafitte tried to introduce Marx to the young Abraham Lincoln
.
Jean, who had substantially financed one of the earliest synagogues in Louisiana, is buried (perhaps) in a Jewish cemetery in Metairie. (
More
).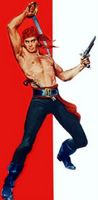 For a dramatic though goyishe rendering of this story see the 1958 movie
The Buccaneer
with Yul Brynner (see left) as Jean Lafitte, Charles Boyer as Dominique You, and Charlton Heston as Andrew Jackson.
For a good list of references:
Cindyvallar.com
.
And I love the book
Jews on the Frontier
by Rabbi I. Harold Sharfman, which I first encountered when my band was playing for B'nai Brith week at the Blumenthal Center in Little Switzerland and in which I first read the story of Jean Lafitte.
I also posted on Lafitte at Jewish Pirate Update!NEW UPDATE: an article on a new book coming out on Sephardic Jewish Pirates!
Technorati Tags: History, Jewish