Thanksgiving: saved by an apple
Thanksgiving is a hard time of year for divorced families, ask any of us. Last year it was "my turn" to have Melina and Zed, and a fine time we had - an excellent dinner followed by a most entertaining session of welding and, even more fun, the exploding of aluminum cans into fiery blobs with the oxyacetalyne torch.
So this year it is my ex's turn, and there is sickness over at his house, so things are stressful and I haven't seen much of my kids since their first sleep marathons...
And today started with a very sad conversation with a dear friend, I felt desolate, and the house was even emptier and quieter than usual after that...
Eventually it was time to start making a big pie to take to the Thanksgiving dinner I've been invited to (I'm the lonely stray they're taking in this year).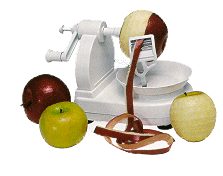 I started to cheer up when I got out the apple peeler - it's exactly like the ones the colonists used hundreds of years ago, only made of plastic. I used to hate peeling apples but I love this gizmo so much, every time I turned the crank I felt a little better.
My recipe suggested using two kinds of apples, so in addition to the usual Granny Smiths I'm trying some local Nittany apples. It's true, I generally grumble at the expense of our local yuppie-foodie-no-price-too-high Whole Foods Market, but when I took a bite of one of their Nittany apples, I smiled for the first time all day.
Perhaps half of this apple slipped into the cook as she chopped.
Then my brother in Los Angeles called to wish me a Happy Thanksgiving and tell me his dream is to get our families, and my other brother's family, together for Thanksgiving at least once more in our lifetimes. I have my doubts but it was great to hear from him.
So I took the label off that wonderful Nittany apple and I stuck it up on the post near the stove, to remind me that little things can turn your day around if you let them. Now the pie is baking and it smells wonderful.
I'm thankful I have someplace to go; I'm thankful that my kids did not get stuck in some crowded airport somewhere, but made it home safely, and that they slept happily under my roof; I'm thankful I'll see them tomorrow. And, of course, I'm thankful that I'm enjoying yet another day above ground.
Technorati Tags: Thanksgiving
Labels: recipes