The party's over, the guests all leave.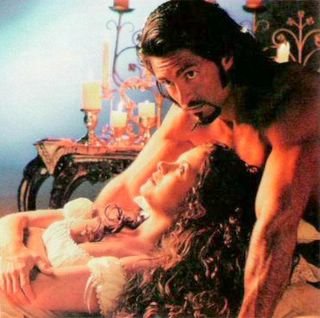 Well, friends, my marathon project of blogging the five-day-a-week telenovela
Alborada
has finally ended.
Last night, my readers mixed themselves margaritas and settled in to watch the 90-minute Grand Finale. I sat down with my clipboard and blogged my little fingers off.
I'm exhausted from staying up so late every night, but it's been a great adventure.
For one thing, this blog went from about 250 visitors a day to as many as 1200 on big Alborada days.
For another, these new visitors were kind and enthusiastic and left lots of comments. They helped me with my Spanish, looked up historical anachronisms, and called their mothers-in-law in Puerto Rico and Mexico when none of us could figure out some obscure phrase. They laughed at my jokes.
What an amazing experience it must be for telenovela actors. A typical production comprises about 80 hours, somebody wrote. That's got to be months and months of spending all day long with your fellow actors, in beautiful clothes, creating, but also living, an intense fantasy.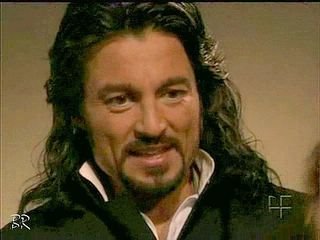 Another funny thing about my new visitors is that they really let themselves drool over the protagonist (left). A couple times the producer let this guy take off his shirt and show his (anachronistic) big muscles. My readers fell off their chairs, they told me...
There is a grand showcasing in the telenovelas of an old-fashioned, regal kind of acting - usually portraying the villains and villainesses - which was born on the stage, centuries ago. I enjoyed it very much. Our gringo villains are rarely so impressive, rarely drenched in blood, their heads held high, giving wonderful speeches completely lacking in remorse!
This particular villainess, dying of cancer, last night prayed to God, with her rosary wrapped around her knuckles, as she knowingly drank poison. Then she had her indian servant (who in real life was one of the directors of the novela) put this tiara on her head! And she staggered down the hall to her son's room - he was dying of syphilis, but not fast enough - and poisoned him too! And lay down in bed with his corpse, wearing her tiara, and died!
Friends - you can't beat that. Regular programming at Pratie Place resumes tomorrow.
Technorati Tags: novela,, telenovela,, alborada