Menticia and I make a gingerbread house
I thought there might be somebody else out there interested in making a speed gingerbread house. My mentee, Menticia, and I made this house in 2-1/2 hours, clocked from when we rushed in the door with the bag of ingredients to when we rushed out the door to get her home.
Here is our
recipe
. And at the left is a scale drawing of the 11x17 jelly-roll pan and how to fit the pieces of the house in it. Cut templates out of cereal box cardboard. You also need to prepare a base, plywood or corrugated cardboard or a flattened cereal box. Cover the base with aluminum foil.
The left-over bits of gingerbread can be eaten (if you like gnawing hard cookies) or turned into bushes, a chimney, a satellite dish, etc.
As it turned out, because we had not pressed the dough into the pan as evenly as possible, the house sides turned out thin and the roof pieces turned out thick and heavy. This threw the dimensions off a little bit.
We started with the already-cooled cut-out pieces of construction-grade gingerbread. We rehearsed our moves before we commenced gluing.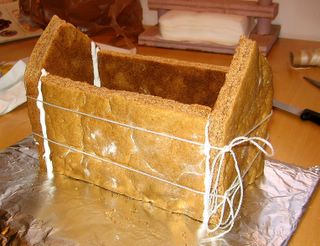 Then we put the gooey icing into a pastry bag and used it to butt the sides of the house into the gable ends. I tied the whole thing together so we could continue working while it set up.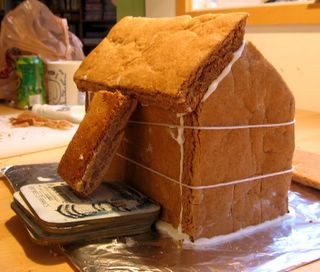 As you can see, I mitered the ridge side of the roof pieces so they would meet nicely. Whittle the edges using a paring knife
while the gingerbread is still warm!
Afterwards, forget it, it's hard as rock, use your table saw.
Notice we used some coasters and a leftover piece of gingerbread to shore up the first roof piece while we got the second piece ready.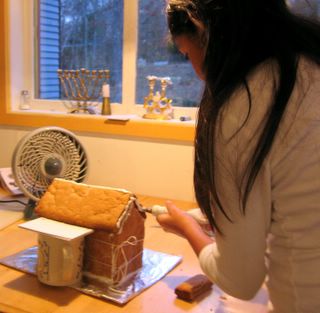 We rotated the base 180 degrees, put on the second piece of roof and buttressed it with a coffeecup. Menticia commenced decorating. We had a deadline. There was no time to waste.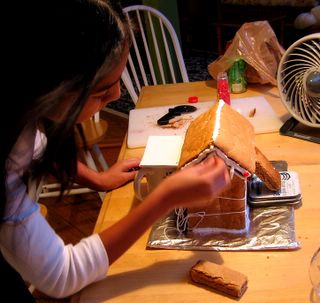 Menticia is pressing cinammon candies into the icing. Note that at this point I have fetched the fan (previously used to cool our slabs) to blow on the icing so it will set up faster.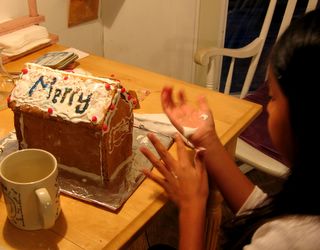 There was a near disaster when "Merry" was spelled "Marry" but we had the idea of correcting the mistake, which had been made with blue icing, by writing over it with white icing.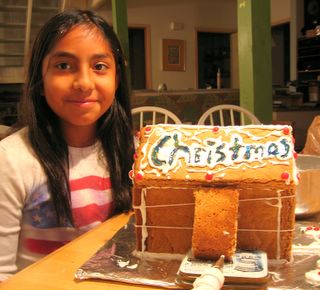 The other side. We took a short break, then cut the string off and much more icing and sprinkles etc. were applied.
It looked very festive when Menticia was finished, but by then we were in such a tearing hurry I sadly never got a picture of the finished product.
Technorati Tags: Gingerbread, Gingerbread House