Dawn of the Dead and Armageddon via BoingBoing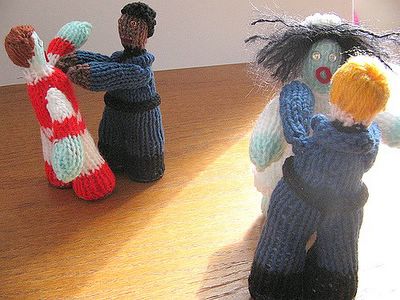 Above, one picture from a slideshow of the knitted version of the
Dawn of the Dead
.
Via the post entitled
Awesomely Weird Jehovah's Witness Art
, also at BoingBoing, I found this picture and many more at the deadpan
Quotes.Watchtower.ca
, a site with this explanatory subheading:
Quintessential, Decisive, Conclusive: "...delightful, correct words of truth"
People bearing the "Watchtower" magazine used to come to our door all the time. Now that I have a deerfence, though, they stay away.
This picture of happy Witnesses escaping Armageddon reminds me of my own born-again brother expounding: "I'm not afraid of dying, because I know I'll go to heaven. What makes me sad is that some people I love..." (looking pointedly at me) "will not be there."
Technorati Tags: Religion, Movies, Crafts, Humor