Mementos from Plainfield, Vermont
Larry's first singing group, I think, was the "Word of Mouth Chorus." They did a wonderful shape-note (Sacred Harp) album for Nonesuch Records, now available on cd, called
Rivers of Delight
. Sacred-Harp music has gotten more attention since the movie "Cold Mountain" - in fact when a group of us shape-note singers were sent to a bluegrass festival in Ulster, our sets were mobbed by Cold Mountain fans - but it was very obscure up north back then. Anyway, Word of Mouth was very involved with the Bread and Puppet Circus. Just inside the front door of Larry's home is this poster.
The manifesto was printed by the
Bread and Puppet Circus
people, who made many wonderful woodcuts, some featuring Mr. Death (below).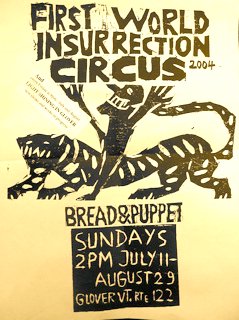 You can read an excellent article on the history of this dramatic and political arts organization and their "Domestic Resurrection Circus"
here
.
We saw puppets rather like these at SolarFest, hugely tall and narrow sorrowing parents carrying slender paper bag babies.
Here are other mementos spotted in Plainfield:
and, finally, a more practical notice posted near a sink:
Technorati Tags: History, Music, Shape Note, Sacred Harp, Theater, Theatre
Labels: music