Winkle's loss is Ruth's gain.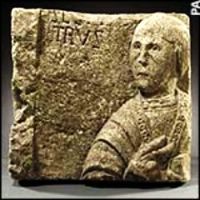 This 10th century limestone relief of St Peter was discovered at a quarry by stonemason Johnny Beeston, from Dowlish Wake, Somerset. He took it home and for years it marked the grave of the Beeston's stray tabby cat Winkle.
Local potter and amateur historian Chris Brewchorne spotted it lying in the couple's garden and suspected it was something special. When Johnny Beeston died, the carving was sold at Sothebys, whose spokesman said:
The relief is made from Oolithic limestone and is incredibly rare, as few reliefs of this period have survived, time normally having worn the surface detail away. The carving is believed to have originally been a section of a cross shaft, or part of a larger panel - the figure of St Peter is clearly visible. It is a rare survivor of English stone carving at its best and draws strong parallels to the 9th and 10th Centuries.
"The family" said Ruth Beeston, the widow, planned to spend money raised from the sale on her grandchildren and a new rocking chair, but the Southeby auctioneer said she was planning a trip to Kenya.
More
from BBC News.
Technorati Tags: History, Archaeology