North Carolina Youth Tap Ensemble rehearsal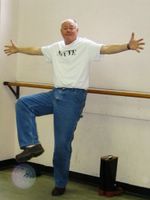 Yesterday was the band's first rehearsal for this year's
North Carolina Youth Tap Ensemble
concert.
Gene Medler
is the genial mastermind behind this great group, for whom I have played once a year for a long, long time. The kids and their parents all worship him. I think he's pretty great, too.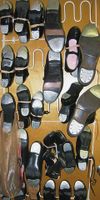 This is the inside of the door in the upstairs studio at the Chapel Hill Ballet School where we meet.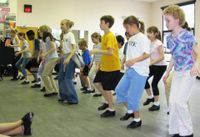 The kids in the group range from extra-tiny to seniors in high school. Over the years I've seen the extra-tiny ones grow to be high-school seniors, and then graduate, and some even come back as guest performers.
The group is very tight, like a huge pile of puppies or the Thirty Musketeers. The older ones help the younger ones, and then when the younger ones become the older ones they help the next generation of little tappers who come along.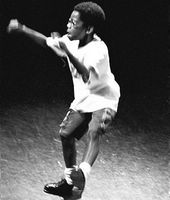 This picture from the NCYTE website is of a cute kid who is profoundly deaf. You have to tap him on the shoulder to get his attention. He was smaller than this when I first met him. The picture's a year or two old - now he's quite a bit bigger and a very good tapper.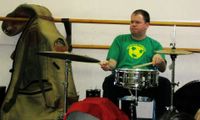 Matt the drummer was first to set up. He establishes a "defensible position" in the corner, barricading himself strategically so that no tappers come crashing into him. The bassist and the pianist were not set up yet when I was taking these pictures but you can see the bass case.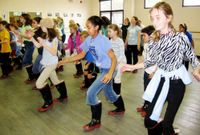 Meanwhile the kids were rehearsing their gumshoe number. There are jingling bells on the boots and they sing an African song as they dance. They also dance to jazz; fiddle tunes (well, that's why I'm there); Haydn by the Mallarme string quartet; techno; and sometimes just the sound of their own feet.
NCYTE is the perfect outlet for super-energetic kids. Surely a lot of kids who are diagnosed ADD and put on ritalin really just need tons and tons of noise and exercise? These kids are so focused and so dedicated to their work with Gene. They rehearse their moves in every available corner whenever they are not needed center stage. They are rarely still. They are jubilant.
The show is next weekend, April 2, at the Carolina Theatre. Shows at 2:00 and 7:00 pm. Tickets from Carolina Theatre Box Office 919.560.3030 and The Ballet School of Chapel Hill 919.942.1339.
Technorati Tags: Dance, Kids, Chapel Hill, North Carolina