Don Jose Tienda Mexicana
Melina and I went by this restaurant on Wednesday. Its mouthwatering food and eccentric decorating scheme made me so happy I actually had to go out and buy a camera so I could go back today and take these pictures to share with you.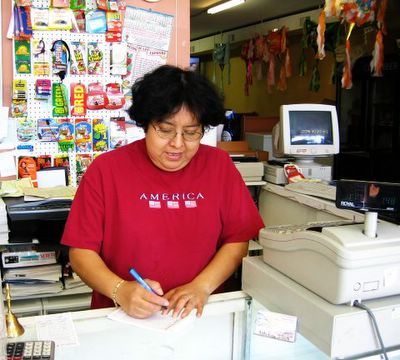 This is not a restaurant review because I'm not qualified to wax over details. Everything was
muy rico
, that's all you need to know. You can't go wrong.
By the way, I haven't tried reading my camera manual yet, I'm just up to the "quick start" page, so don't expect anything fancy.
Anyway, I've lived in this area for a long time, so I remember when this storefront housed a Greek restaurant, the "Marathon." As you see from the shot below, taken from the parking lot, the Greek themed mural on the outside wall is still in excellent condition. It has been addended somewhat to suit the current restaurant.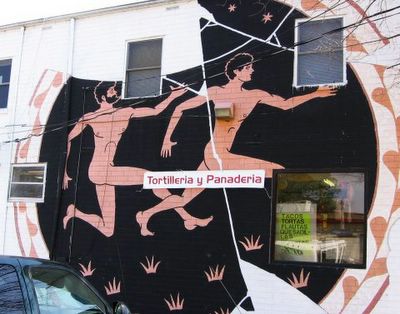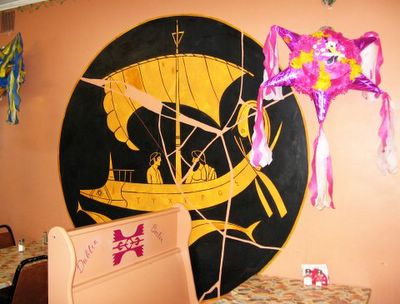 Here, on the right, you see more Greek lads, this time on the inside of the store. The Marathon-era mariners are co-existing with a lot of piñatas.
I used to be afraid of restaurants that looked like this. But since my trips to Puerto Rico and Costa Rica, where by necessity I ate in places that looked much darker and funkier than this but served great food, I take more chances.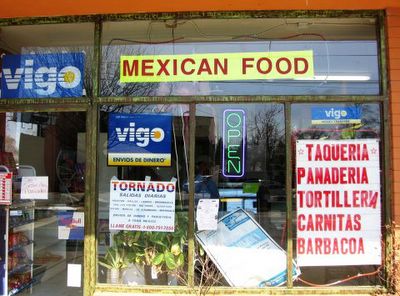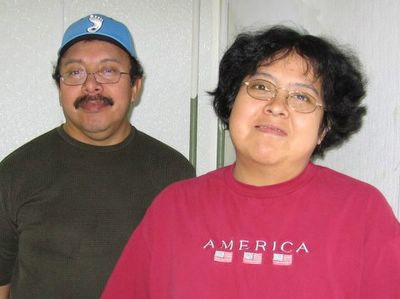 Gloria and Miguel Valdez, the owners, came here from San Antonio. At first they were just offering corner store staples like flour, spices, coconut milk, dried shrimp in plastic bags, etc., and customers could also send money to Mexico. But the big kitchen was there, calling to them, so they started cooking. At lunch the place is usually packed.
The only menu is the one you see below. It's written on cardboard and hung above the kitchen door. Read it and drool. Everything we've tried has been absolutely fresh and delicious.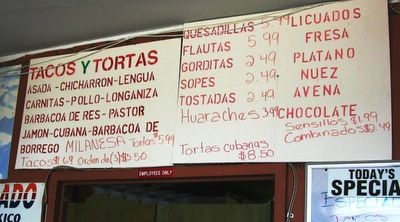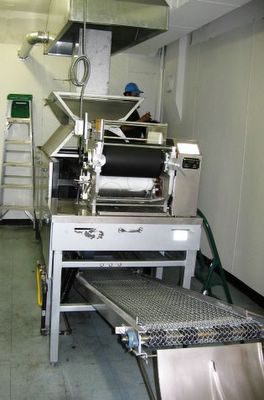 The most spectacular thing in the store is this tortilla machine. They spent $40,000 on it, which was a breath-takingly brave thing to do. When Melina and I arrived, Miguel Valdez was feeding the masa (corn-flour) dough into the top of the machine. The cutter rotated and tortillas went down the conveyor belt and Gloria stacked them in a big cooler.
There's nothing like a tortilla hot off this machine. I am particularly addicted to the asada (roast meat) tacos - they roll each taco in TWO of their soft, hot, aromatic tortillas. There's a condiment bar with several kinds of salsa, guacamole, onions, etc. They also make their own bread for the tortas, which are huge and full of any delicious things you ask for. There are also brightly-colored dessert pastries which we didn't try.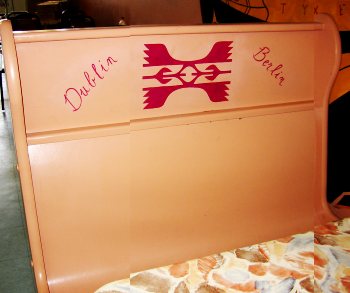 To continue with the tour - after the Greek restaurant closed, there was at least one other restaurant. Maybe there were two. What I remember: some sort of Orient Express mix, hmm, Turkish Lebanese Israeli Middle-European? I don't remember the restaurant's name but the food was good. There was frequently a belly dancer. I think these benches, each with the name of two European cities, date from that era. On this bench, Dublin and Berlin.
I will finish my tour with perhaps the only wall in the world where a Sponge Bob piñata is hung cheek to cheek with the Virgin Mary.
Mom and Pop stores have become so terribly rare. Whenever you see one, you should immediately walk in and give them a couple bucks just to encourage them to stay in business.
If you're local, go right over there and eat some flautas. If you live far away - call me from the airport and I'll come get you and we'll go eat tacos.
Don Jose Tienda Mexicana
708 W. Rosemary Street
Carrboro, NC 275140
919-969-8568
Technorati Tags: Food, Carrboro, Chapel Hill