He waits on his porch for his teacher to pick him up.
This picture is scanned from a Wall Street Journal ad circa 1998. The caption: "100-year-old George Dawson waits on the porch every school day for his teacher to pick him up." When I saw it, I started weeping. I still get teary when I see it.
Shortly after this picture was taken, George Dawson became quite a celebrity; here is his story, courtesy of Google.
Grandson of slaves, Dawson was born in a three-room log cabin on a farm near Marshall, Texas in 1898. He started work at 4. When he was 10, he saw a good friend lynched. When he was 12, he was sent out to work on a nearby farm. He earned $1.15 or so a week which helped feed his parents and four younger brothers and sisters, who went to school though Dawson could not.
As a young adult, he traveled all over, sometimes riding the rails as a hobo. He visited Mexico and New Orleans and went to Canada to see snow. He broke wild horses, built levees on the Mississippi, and shoveled dirt into mule-drawn wagons.
In 1928, he moved to Dallas where he worked on the railroad, did road crew work for the city, and tended boilers at a dairy for 25 years.
Dawson "helped" all seven of his children with their homework every night. They never realized he couldn't read.
In 1996, a literacy volunteer knocked on Mr. Dawson's door and told him adult education courses were being taught a few blocks away. Mr. Dawson responded eagerly, "Wait, I'll get my coat."
"I agreed to take it on temporarily, and in walks this 98-year-old man wanting to read," his teacher Carl Henry, retired head of the music program for the Dallas schools, recalled.
Dawson: "My first day of school was January 4, 1996. I was ninety-eight years old and I'm still going....I'm up by five-thirty to make my lunch, pack my books, and go over my schoolwork. Books was something missing from my life for so long....I learned to read my ABC's in two days -- I was in a hurry....Now I am a man that can read." He signed his name for the first time at age 98.
The Discovery Channel, The Oprah Winfrey Show, Nightline, People magazine and Good Morning America profiled his life. Two universities awarded him honorary degrees.
He collaborated with a Washington state schoolteacher to write a book about his life, "
Life Is So Good
." (It was translated into other languages; this is the cover of the French edition.)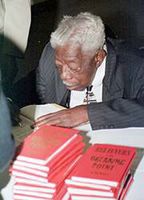 The book's financial success let Mr. Dawson raze his dilapidated house and build a new one. Still, after all the travel and the interviews and the awards, he settled back into his regular routine of attending adult school classes in social studies, science and math, and cooking himself the "common food" to which he attributed his longevity: hot chocolate and white bread for breakfast, barbecue and milk for lunch, catfish for dinner. George Dawson died July 5, 2001 at the age of 103. It was quite a ride.
See President proposes cuts to adult literacy programs.
So Get Involved Already!
If you want to help people learn to read, at this Verizon site and America's Literacy Directory websites you can find places near you to volunteer.

Locally, the Orange County Literacy Council writes: "Anyone who is a good reader and enjoys working with people can be trained to be an adult literacy tutor." They have a directory for other North Carolina programs.

Or you can work with kids in the Student Reading Program in the Chapel Hill/Carrboro schools. It's super fun, I just waltz into that school building a couple times a week and sit with one kid at a time for 20-30 minutes, reading. They are bouncy and cute and really need us; many do not have a parent at home who can read with them. Susan Pearce (919-967-8211 x 336) is director. You can try to email her at volunteer@chccs.k12.nc.us but they have a killer spam filter on their system so better to call.

Also, I do a lot of reading with my mentee (Here's my post on what a delight that is). Call Graig Meyer 921-2170 for information on joining that program. (Call before March 2 to get in on the current round.)
Technorati Tags: Reading, Literacy, Volunteering, African-American