The Mayor of Coney Island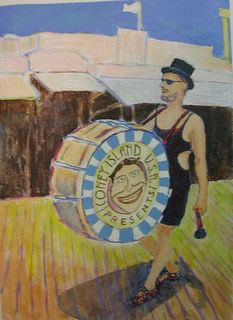 I was reading an article in the Yale Alumni magazine called "The Man Who Saved The Freak Show." I did a double take - the guy was this very guy, Dick Zigun. He is not some anonymous hippy with a drum, as I thought when I found his picture on the internet and painted him
last week
for Illustration Friday. Synchrony!
Zigun: "At nine years old, I was a P. T. Barnum scholar. The Shakespeare of Advertising had been the mayor of my hometown, Bridgeport, Connecticut. Bridgeport was still very proud of him. I grew up thinking elephants and midgets were patriotic."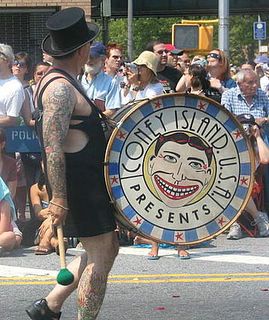 Dick got a Masters of Fine Arts from Yale in 1978 (from the School of Drama, for playwriting). He moved to Coney in 1979 and the following year founded Coney Island USA.
He is now known as the "Mayor of Coney Island" and his not-for-profit corporation produces the Coney Island Circus Sideshow; the Coney Island Museum; Ask the Experts; Burlesque at the Beach; the Coney Island Tattoo and Motorcycle Festival; Creepshow at the Freakshow; the School of Freakology ("where we train the new generation of circus idiots for the 21st century"); the Coney Island Sideshow School; the Coney Island Saturday Night Film Series and the Coney Island Film Festival.
Zigun also invented the Mermaid Parade and leads it every year. (Also see the
Sweet Potato Queens
, whose
St. Patrick's Day Parade
in Jackson, Mississippi is tomorrow).
The Mermaid Parade is a completely original creation that is that nation's largest art parade and one of New York City's greatest summer events.
The Mermaid Parade ... is characterized by participants dressed in hand-made costumes as Mermaids, Neptunes, various sea creatures, the occasional wandering lighthouse, Coney Island post card or amusement ride, as well as antique cars, marching bands, drill teams, and the odd yacht pulled on flatbed.
Each year, a different celebrity King Neptune and Queen Mermaid rule over the proceedings ... David Byrne, Queen Latifah, Ron Kuby, Curtis Sliwa, Moby and Theo have graced our shores, presiding over the assembled masses. ... Although it started out small ... it now attracts over half a million people and reflects both the island's past and future.
The 2006 Mermaid Parade is tentatively scheduled for June 24th.
"Coney Island USA was founded in the belief that 19th century American popular culture gave birth to a democratic cultural golden age, unique to this country's history and indispensable to its future ... the honky-tonk subculture that was once uniquely Coney Island has reemerged as a post-modern trend in entertainment and art."
Attention, all you job-hunters: this illustrates that there are many career paths you may not have considered.
For more, visit
http://www.coneyisland.com/
.
Technorati Tags: sideshow, Coney+Island