A beautiful settee at the NC State Fair
We were very tired after our many hours of
walking up and down the fairway
(because Menticia and her friend had to consider very carefully just exactly which rides would give them the most gut-wrenching blast for their bucks) when we decided, at the last moment, to go into the
Village of Yesteryear
. We saw a lot of great crafts, but this piece of furniture made me gasp and I immediately ordered one, even though it's very expensive and there's a two year waiting list.
When I got home I looked around and realized that, contrary to what a curmudgeonly visitor told me a few years ago, I DO have an aesthetic sense. It's just ... based on a strange principle. What I like: things I can see under, over, around, and through. All my furniture has legs - my cabinets don't have doors on them - there is nothing with a dust ruffle in this house. My stairs are open. There are few walls. My windows have large panes.
So you can see why I thought this settee was the perfect piece of furniture. Now I feel like Calvin waiting for his beanie (click for larger shot).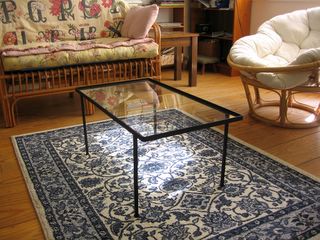 People have been asking to see a picture of the table my neuropsychiatrist singing student and I finally
finished welding
(well, we had to figure out how to weld first, that's why it took so long). Here it is. Notice that you can see over, under, around, and through it.
Technorati Tags: Furniture, Aesthetic