Max Heller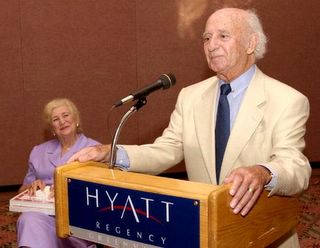 I wanted to write about the time I got my bandmates up before dawn, dragging them toward South Carolina to play for Max Heller's birthday - a huge celebration at the "Max Heller Conference Center" in the Hyatt Regency, at which he and his wife Trude got the "Citizen of the Year" award from the League of Women Voters - only to discover it was the wrong day. We DID come back, but there is woe in the tale.
So I looked up Max Heller; he proved so interesting I'll tell you about him, instead, and save the nightmare gig for another occasion.
B.G. (before Googling), I only knew that Max had been mayor of Greenville SC for two terms. Then I read his
story
at the website called
Survivor & Witness in Western North Carolina: Choosing to Remember - from the Shoa to the Mountains
:
Max was born in Poland in 1919 to Israel and Leah Hirsch Heller, who sold fabric for bedding and tablecloths. Max worked for a five-and-dime supply company, becoming foreman and later buyer, earning about ten dollars per month.
When he was 18, Max met fourteen-year-old Trude Schonthal and told her they would marry some day.
One day at a dance in Vienna Max met a chaperoned group of girls from Greenville, South Carolina. He danced with a Mary Mills; neither could speak the other's language, but they met the next day for a walk and Max asked Mary for her address.
The next year, on Friday, March 11, 1938 Max witnessed the Nazi takeover of Vienna.
Austrians were on the streets jubilant in their support for the Nazis. Jewish synagogues and property were being burned and vandalized. By Monday Max remembers that signs were posted in the park forbidding Jews to sit down on the benches. At work on that first Monday following the Anschluss, fellow employees arrived wearing Nazi uniforms.
He wrote to Mary - using a German/English dictionary - and she was able to find a man in her hometown, Shepherd Saltzman, who would send an affidavit.
Meanwhile, Max and the few other Jewish employees not yet fired were ordered to train the non-Jewish workers who would soon be taking their places.
Max remembers long lines of people waiting to apply for visas at the American Embassy; he and his family stood in line all night, trying to get a chance to apply.
As soon as he reached New York, Max took a train to Greenville. Right away he began sweeping and working as a stock boy at Piedmont Shirt Company.
In the summer of 1941 he went to New York to visit Trude, who had also managed to escape. They were married in August of 1942. (Trude's story is also told at the
Shoah website
.)
Max became a successful businessman in Greenville and in 1969 he was elected to the City Council. He served as Mayor of Greenville from 1971 until 1979, spearheading the revitalization of downtown and the bringing of new businesses into the city.
Heller then ran unsuccessfully for a seat in the U.S. Congress, on which defeat Marc Wilson (
Marc Musing
) commented:
The designation of "good Jew" attained its apex in my current residence of Greenville, SC, as businessman and Holocaust survivor Max Heller rose to the position of the city's most respected mayor. Ironically, Max's being a "good Jew" was not good enough to be elected to Congress in the late 1970's due to an overtly anti-Semitic campaign largely fomented by Christian conservatives.
In the decades since that defeat, Heller and his family have been busy; here are excerpts from a 2002
story
by Jason Zacher for the Greenville News:
Friends thank Hellers with Furman honor


The lobby of the Hyatt Regency hotel fell silent Thursday when Max Heller began to speak.

He talked about the "miracle" that brought him here from Nazi-occupied Austria in 1938 and recalled how six young girls from Greenville helped him escape the Holocaust.

But it was the announcement of this day, that Furman University was renaming its Collegiate Education Service Corps for the former Greenville mayor and his wife, Trude, that brought tears to Heller's eyes. The Hellers' friends have raised $1 million toward a $1.5 million endowment for the program.

The nearly 200 people who packed the Hyatt -- just outside the Max Heller Conference Center -- said Heller's contributions to the community cannot be overstated.

Greenville's most notable and powerful -- black and white, Democrat and Republican -- were there, but when Heller began his speech, it was as if a prophet stood before them: The crowd hung on every word.

Heller, 83, recounted his chance meeting with six Greenville girls in Nazi-occupied Vienna, Austria in 1938. Some people teared up when he called that meeting his "miracle." The audience delighted in his account of how he asked their chaperone if he could dance with the girls and watched while they sized him up.

Families of the six girls gave money to the endowment. One of the girls, Louise Jordan Earle, was present, as was the daughter of another, Mary Mills.

"If it had not been for your mother, I would be bones in Auschwitz," he said to Mary Moore Roberson, Mills' daughter.

The miracle that brought Heller to Greenville shaped his life's philosophy -- the importance of "sharing oneself with others."

A close bond between Heller and Furman began when former Furman President John Plyler mentored Heller after he came to Greenville in 1938.

Since that time, the Hellers have established scholarships at Furman, taught classes, and served as volunteer leaders. Both have received honorary degrees from the university, and Max Heller is currently a member of the Furman Board of Trustees.
Heller and his family have continued to be leaders and philanthropists. Their presence is a blessing magnifying one young girl's long-ago
mitzvah
many times over.
Technorati Tags: Jews, Holocaust, Shoah, History, Greenville, South Carolina