John Wesley Grim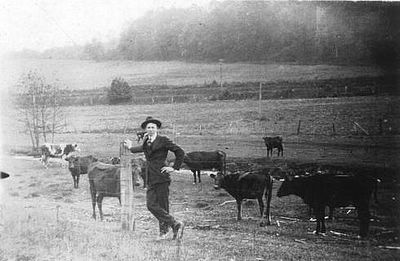 This is a picture of my grandfather posing with some cows in York County, Pennsylvania. He actually wasn't big on cows. He was an inventor and a mechanic who farmed all his life without much pleasure. (Note cow's ear, left foreground.)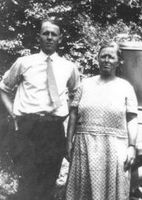 Here is my grandfather with his mother, Flaura Belle. You probably think her appearance belies her sweet name. However, her last name - Grim - is an
aptronym
. She had a hard life as a farmer's wife.
Now the cool thing about the story I'm sharing with you is that it was a collaborative effort between me and a man I met over the internet. We were both researching Flaura Belle's father.
This other researcher had Flaura's grandmother's beautiful baptismal certificate hanging on his wall and guess what, he lives only twenty miles from me! We got together and shared pictures and stories! Isn't the internet amazing?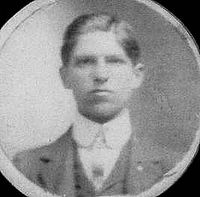 Anyway, the man we were researching was Flaura Belle's father, this handsome dandy: John Wesley Grim. He was born in 1856 and died in 1930, having lived his whole life within a stone's throw of the Pennsylvania/Maryland border.
Wesley was a black sheep and the subject of many whispered family stories. He was a sometime horsetrader, perhaps not a particularly successful one - there are stories of his getting fleeced and bamboozled. He was, like his grandson, a reluctant farmer, but more often was a trader of miscellaneous goods. In his old age he was an odd-jobs man.
But he is mainly known among us as a man who loved the ladies. He had three wives and, according to older family members, numerous other, uh, sweethearts in addition. This is not common in Pennsylvania Dutch Lutheran farming communities.
Wesley's first wife was Martha V. Hare, and Flaura Belle was their first child. Martha died soon after the birth of her second child, William.
Wesley married again, almost immediately. His second wife, Leonora Hoge, like many stepmothers, did not want the older kids around; at the age of 12 my great-grandmother Flaura was "sent out" to live and work on a neighboring farm and never came home again. Nora had convinced Wesley they were "too poor to keep her" as my aunts put it.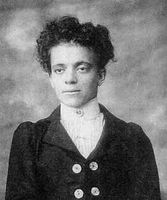 After having four children, Nora died, and Wesley married yet again, at the age of 57, to this beautiful young Maggie V. Miller. Though their marriage certificate calls her white, our relatives insist variously that she was (a) a gypsy who smoked a clay pipe or (b) "colored" or (c) Native American. Make up your own mind.
Wesley outlived his third wife, too. He died at 74, still running a blacksmith shop behind the house he shared with his daughter and her family in Lineboro.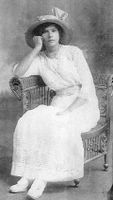 I have one more picture to share with you. This was probably one of John Wesley's, uh, sweethearts.
I've been interested in genealogy since Zed brought home a "family tree" assignment many years ago. My interest increased after I converted to Judaism (I guess I didn't want to "forget my roots" just because I had joined a new tribe) and again when my father died. I have learned so very many interesting things, not just about family but about research, and primary sources, and people; I have traveled to places I never would have seen otherwise and seen fascinating things.
Don't be put off by the petty self-aggrandizing and puffery of many of us amateur genealogists (they drive me absolutely batty but I remind myself that they are harmless). Reseaching your family's past is fun and worth doing.
Talk right away to the oldest relatives you know - while they still have their marbles - and you, too, may find a womanizing horse-trader in your past! You can always hope!
Technorati Tags: Genealogy, History, Pennsylvania Dutch