Great shoes in Tokyo
Forty pairs of shoes designed by 18 Israeli artists, industrial designers, and fashion designers. "The visitors are invited to add their shoes to the exhibition." Following which, I guess you get to go out shoe shopping. At Hanan Levin's
growabrain
is. Why just yesterday, among many other excellent things, Hanan directed us to: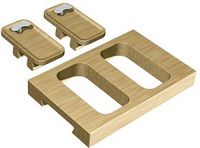 1. Forty pairs of shoes designed by 18 Israeli artists, industrial designers, and fashion designers. At
designboom
. "The visitors are invited to add their shoes to the exhibition."
Following which, I guess you get to go out
shoe shopping
.
2.
How to tie your tie properly
. I'm sending this one to my son Zed post-haste - there's even a movie on tying the "Windsor."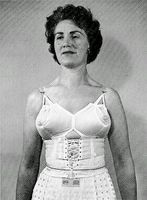 A history of the Spirella Corset in England, with excellent pictures. I remember ladies like this, stiff as blocks of wood. Perhaps it would have been better if they had simply tried to lay off those plates of little cucumber and mayonnaise sandwiches with the crusts cut off.
Technorati Tags: Humor, Clothes, Ties, Shoes, Corsets, Fashion