Word lab #1
"
The Word Lab
" by Nicholas Lemann was published in The New Yorker 16 October, 2000. Here's an excerpt:
You could be forgiven for supposing that somewhere in the country (a refitted underground missile silo on the Great Plains?) each party maintains a secret Word Lab. There purposeful young people in gray uniforms sit in front of computer screens, trying out different linguistic combinations. When a magic grouping of words is achieved, bells ring, lights flash, the purposeful young people give each other high fives, and then a directive goes out to all the party's thousands of candidates: it's not "affirmative action" anymore; it's "preferences."
So we were brainstorming for a few minutes.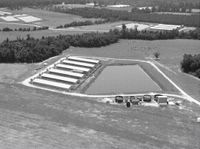 How about a
hog lagoon
?
My son proposed
elixirs
, the disgusting gag-inducing pharmaceutical concoctions he had to force down his throat for months.
Or how about
cookie
? Coined to make the idea of having companies insert their spying software on our computers seem wholesome.
Technorati Tags: Culture, Words, Current Affairs