Jewish Pirate Update
When I first blogged about
Jean Laffite
, Jewish pirate of New Orleans, I had read an account of him in "Jews on the Frontier" and done a bit of poking around online.
I wondered why so many said "his origins are shrouded in mystery" if he in fact stated in his diary that he was the grandson of Spanish Jews Abhorad and Zora Ladrimal - Zora and her daughter having fled Spain for France after Abhorad was tortured and murdered by the Inquisition.
So I looked him up in the UNC library. I'm going to share what I learned, but you have to promise to let Melina, my daughter, write the next Laffite book - she's working on it already. She has first dibs!
So first, for those who were disbelieving of the claim that Laffite was a Jew, see this inscription from his bible.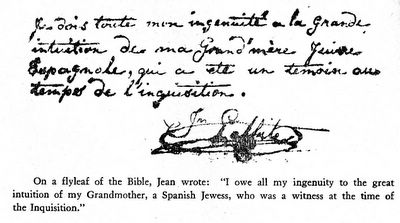 Laffite talks at length about his childhood in his memoir. The problem is, the memoir may be a fake.
The spotted history of the Laffite journal, which surfaced a century after Jean's death in the hands of a descendant, is laid out in the introduction to Gene Marshall's translation entitled "The Memoirs of Jean Laffite."
"In the 1940s a man by the name of John Andrechyne Lafitte began his inquiries about his ancestor, his great-grandfather Jean Laffitte. ... after retiring from the Missouri Pacific Railroad, John A. opened several trunks left to him by his grandfather Jules, who had died in 1924... Unfortunately, the bulk of the documents and books were in French. John A. was not certain what he had inherited from his family ... John A. dreamed of fame and fortune based upon this fortunate heritage."
John Andrechyne seemed sleazy to the people he contacted seeking information about his documents and the best means to profit by them. His reluctance to let anybody review the papers didn't help.
"The owner is a freak who will not allow anyone to know where he lives ... He has hidden the original Book and will not again produce it..."
John A. was so disliked by those he tried to do business with that their feelings about his documents' authenticity were colored by mistrust of the owner.
John A. gave Stanley Clisby Arthur fairly free access to his collection; Arthur wrote "Jean Laffite, Gentleman Rover" in 1952. The book, now long out of print, contains facsimiles of some of the collection's documents - especially letters with signatures - which seem very convincing to me.
For instance, many of the people who think the Laffite memoir is a fake point to his supposed death in the mid 1820s. The many accounts are garbled and contradictory, and there is no grave, but the most convincing proof of the exaggeration of his demise are his many letters to his wife, etc., some reproduced in the Arthur book. For instance, this letter from 1848:
These letters may now be gone. Schaadt writes:
"During the 1960s, John A. traveled ... making public appearances ... he was thought to be very peculiar in personality ... He alienated many people which led to the discounting of his claims about the family papers. Two fires, one at his house ... and one at a Spartanburg television station ... damaged or destroyed the majority of his collection. .. According to his wife, the house fire destroyed the majority of the family documents."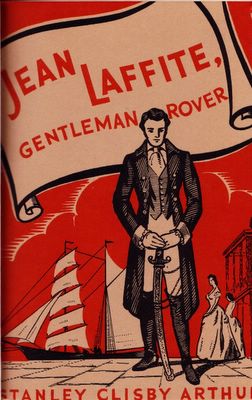 So the documents Stanley Arthur worked with no longer exist. Had Arthur known fire would soon destroy them, perhaps he would have been less cavalier, perhaps he would have footnoted and annotated his work. Scholars have a hard time taking a book seriously when it is pitched this way (see cover, right). Still, his casual book offers tantalizing glimpses of now unverifiable resources. His steps cannot be retraced.
The 257 page Laffite journal, itself somewhat burned and effaced, is in academic limbo. Because of the weird John Andrechyne Laffite, and the lack of corroborating evidence, the journal has coodies. Scholars eschew it. "Experts" alternately impugn and endorse it.
Former Governor of Texas Price Daniel purchased the Journal along with family bibles, albums, etc. for $12,500 and the 4-cubic-feet collection is housed at the Sam Houston Center. Robert L. Schaadt, who was curator of the museum for decades and who wrote this interesting who-dun-it of an introduction to Marshall's translation, concludes:
There is no doubt that the paper and ink of the journal should be tested utilizing the most modern methods by a totally independent party ... the results of such a test could end the debate. Unfortunately, this does require funds, estimated at $15,000 several years ago, which is more than the collection was purchased for in 1975."
If the memoir is in fact genuine, it is a fantastic trove of first-hand history. Maybe somebody will cough up the money to have it tested someday.
UPDATE: A new book is coming out on Sephardic Jewish Pirates including Laffite.
Technorati Tags: History, Jewish, Provenance, Sources