The Last Ziegfeld Girl
Doris Eaton Travis, part of a show business family, began performing with her brothers and sisters at the age of 5.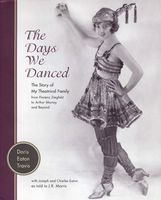 In 1918 her sister Pearl was auditioning for the Ziegfeld Follies and Doris came to watch. "Can she dance?" Pearl was asked. '"Yes," my sister said, and that's how I got in the Follies.' Doris was 14 and had to lie about her age to get the job.
A hoofer (chorus dancer) at first, she was promoted to "special girl" and was onstage with Will Rogers, Eddie Cantor, W.C. Fields, Al Jolson, and Fannie Brice. In 1929, the song "Singin' in the Rain" was written for her.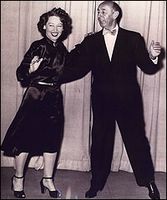 During the Depression, Doris taught at Arthur Murray and then bought a franchise, eventually owning a chain of 18 Arthur Murray Dance Studios in Michigan, which she operated for 30 years. One of her pupils became her husband after a ten-year courtship.
She and her husband moved to Norman, Oklahoma in the 1970s and founded the 800-acre Travis Ranch for horse breeding and racing. Since her husband's death in 2000, the ranch has been home to pet horses and old horses put out to pasture. "I call it the Travis Ranch Nursing Home for Horses."
In 2003 she published a book,
The Days We Danced
, about her life in show business.
Travis enrolled in the University of Oklahoma in 1981 and graduated 11 years later with a Phi Beta Kappa in history, at the age of 88. Late last year she received an honorary doctorate from Oakland University.
Last week Doris, now 101 years old, tap-danced accompanied by a dozen male hoofers on the same stage where she began her career 87 years ago. It was her sixth year as part of "Equity Fights AIDS," an annual Broadway fund-raiser.
Her secret? She doesn't smoke or drink - but she dances. She says dance is the primary thing that keeps her going and she practices every day. "I have my little Victrola there and I play the records and I dance the foxtrot and the waltz and the rumba, swaying by myself." More
here
and
here
.