I have the answer
So as we all know, New York is tough because you'll never be the prettiest, the smartest, the best, the weirdest. It's very easy to feel invisible.
I've just found the answer - the cure for invisibility. It is a five dollar accessory that will get you whistles from men, friendly and envious looks from women. It is the perfect conversation starter (even better than a dog), and it will make you feel invincible.
It is a tiara.
You may never be the most beautiful or know the coolest party tricks. But as long as you're wearing a tiara, you're the princess and everybody knows it.
New York respects a tiara.
--Melina
UPDATE (via Melina's mom):
and they can be surprisingly affordable!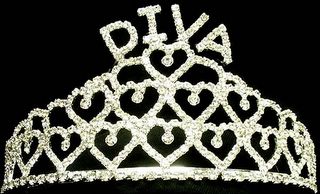 This model is from
tiara.com
- and at
rhinestonejewelry.com
you can find loads of them for less than $20 each - you can buy a whole box , in fact, so you and your friends can all get respect! See also the
Sweet Potato Queens
. Though their look is not particularly New York.
Technorati Tags: Fashion
Labels: hannah