Off to Seattle
Tomorrow at 4:00 am I'm leaving for Washington - that
is
where Seattle is, right? - I've never been there before.
I'll be fiddling and singing at the
Cascadia English Country Dance Weekend
!
This came about because of the
Music and Cats
blog, which takes its name from this quote:
There are two means of refuge from the miseries of life: music and cats.
-- Albert Schweitzer
Kimberly, mother of "Music and Cats," is a violinist; she and I have corresponded sporadically because we have a lot in common (we both love Christopher Alexander's
Pattern Language
, for instance.)
One day last October she casually wrote in the comments on one of my posts: "I wish you could come play at our English Country Dance Weekend."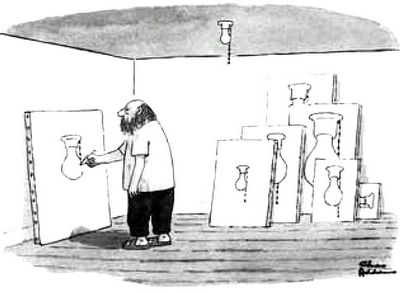 This guy with the lightbulbs here is sort of my "Ghosts of Christmas Future." With my kids grown, I've been afraid my life would get very small.
So I jumped on Kimberly's casual offer and bought a plane ticket.
In the 1980s, Bob and I played every week (or almost) for the English Country Dances led by the magnificent Dance Master, Carl Wittman (1943-1986). It was one of the great pleasures of my life. I still miss Carl immensely. I even dream about his dances sometimes.
While I'm gone, hopefully my daughter Melina will keep the blog fed with her entertaining reflections on life in NYC. For instance, this past weekend she got to go to the theater with
Terry Teachout
...
I'll be back on Tuesday.
Technorati Tags: Diary
Labels: music