Souvenir from our BlogCon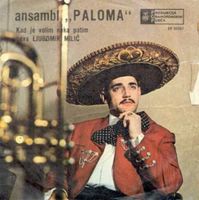 Browsing the
Carnival of the Balkans
website (via Coturnix, attendee at the conference, he of the circadian rhythms) I found the perfect souvenir (for me) of today's meeting. Considering I recently revealed my fondness for Serbian and Mexican music, surely this must be a cosmic sign of some kind. The Glory of Carniola presents
Great Yugoslav Album Covers, Part 2: Yu-Mex
saying: "Tito's break with Stalin in 1948 ... prompted Yugoslav authorities to reject Russian films in favor of Mexican ones. Why Mexico?
Yu-Mex
explains:
It was far away, the chances of Mexican tanks appearing on Yugoslav borders were slight and, best of all, in Mexican films they always talked about revolution in the highest terms."
There are mp3s of Yugoslavian mariachis on the Yu-Mex site. Where in the long tail does this genre fall?
Technorati Tags: Music, Mariachi, Blog