Should you bob your hair?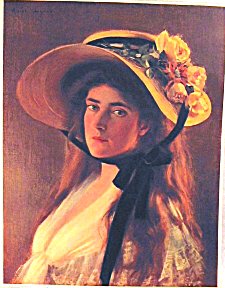 Michele asks in
Is Long Hair Sexy
?: "Do you think there really is a
certain age
when long hair is not appropriate?"
Used to be, every grown woman had long hair.
My Pennsylvania Dutch grandmother wore her gray hair, almost a yard long, in two braids wrapped around her head and fixed with old-fashioned hairpins.
Used to be, it was wild young women who cut their hair, often to the disapproval of their elders.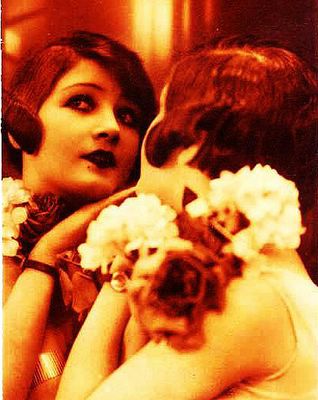 Blind Alfred Reed wrote and recorded the following song, "Why Do You Bob Your Hair, Girls?", in 1927. It was such a smash hit he followed it up with "Why Do You Bob Your Hair, Girls? No. 2" in 1929.
You can download a midi or print out the sheet music for this song at
Digital Tradition
.
I would like to point out the imaginative (or, rather, regional) rhyming of "sin" with "men."
As a modern woman, I am surprised by Blind Alfred's contention that God cares about our hairdos. It smacks of micro-management.
Why do you bob your hair, girls?


Why do you bob your hair, girls?
You're doing mighty wrong.
God gave it for a glory
And you should wear it long!
You spoil your lovely hair, girls,
To keep yourself in style;
Before you bob your hair, girls,
Just stop and think a while.

Why do you bob your hair, girls?
It is an awful shame
To rob the head God gave you
And bear the flapper's name.
You're taking off your covering,
It is an awful sin;
Don't never bob your hair, girls,
Short hair belongs to men.

Why do you bob your hair, girls?
It does not look so nice;
It's just to be in fashion,
lt's not the Lord's advice.
And every time you bob it
You're breaking God's command
You cannot bob your hair, girls
And reach the Glory land.

Why do you bob your hair, girls?
It's not the thing to do;
Just wear it, always wear it,
And to your Lord be true.
And when before the judgment
You meet your Lord up there,
He'll say, "Well done! For one thing,
You never bobbed your hair!"
Postscript: when my grandfather died, within weeks my grandmother had cut her hair and gotten a blue rinse and a perm. She then abandoned her cotton dresses and calico aprons and replaced them with polyester pantsuits and then she got in an airplane for the first time and flew to Hawaii for a vacation with her youngest daughter. And then she sold the farm and moved into a little house in a raw new development.
Very un-nostalgically she exulted: "it's so easy to keep clean."
Is this what Blind Alfred was warning against?
Technorati Tags: History, Fashion, Beauty, Age, Hair