Sweet Potato Queens' Advice for the Lovelorn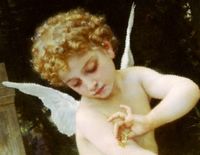 Michele just told me I got tagged. Thanks Michele! Welcome travelers! And on Valentine's Day, no less! If you leave me an inspiring Valentine's Day suggestion I'll try to post about it later ...
Jeez, this holiday stirs up so much rancor. The online guys are moaning it's impossible to win on Valentine's Day. The online girls are moaning that they (a) don't have a Valentine or (b) don't like the Valentine they have.
Let's all get over it!
Men, if you are at a lost for something romantic to tell your wives, here is a suggestion from Garrison Keillor: "I like you better than most men like their wives." Wanna try that one out? (Heh heh.)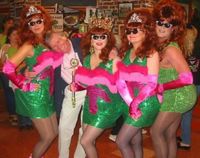 The rest of this post is brought to you from the writings of Jill Connor Browne,
jefa
of the Sweet Potato Queens. By the way, did you know they just made a sit-com pilot? Anyway, this passage is on a dog-eared page in my copy of
The Sweet Potato Queens' Book of Love
. And by the way, the advice is
exactly as beneficial
for anybody of any sex who's in the dumps due to courting disaster.
My friend Fran works in a building with its own employee dining room. Fran's had her share of ups and downs with men, and one of the ladies who works in the dining room has been there long enough to read the faces of the folks she serves.

Fran came in one day, and the lady took one look at her and said, "Git another one." Fran was confused, since she had not spoken a word. "What?"

The lady laid her hand on Fran's arm, looked her squarely in the eye, and said, "You don't have to say a word. It's a man, I know it is. Git another one. This one don't do right. Git another one."

As my daddy used to say whenever he thought too much of a fuss was being made over something lost or broken, "They makin' them thangs ever' day."
Now there is a mantra fit for the ages. For more information, here's the
Sweet Potato Queens Website
. Now if you want to be one of the Queens, you can't. You can't even be a wannabe - there's too long a waiting list. But if you want to start your own club, you can (
World-Wide Chapters
).
Technorati Tags: Love, Valentine, Humor, Advice